Internet Steps Up After No One Shows Up To Autistic 18-Year-Old's Birthday Party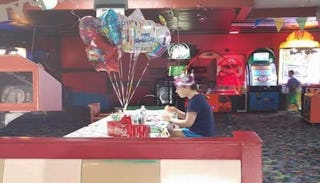 Heartbreaking photo of autistic girl celebrating her 18th birthday alone goes viral
Last summer, Hallee Sorenson was as pumped about her upcoming 18th birthday as any teen. She sent out invitations to 20 or so friends and classmates for a party at a bowling alley but when the big day arrived, none of the guests showed.
When her aunt texted Sorenson's mom wondering why there weren't any pictures from the party on Facebook, Sorenson's mother, Allyson Seel-Sorenson, sent this picture of her daughter eating birthday cupcakes solo in response.
Seel-Sorenson told Buzzfeed it was heartbreaking to watch her daughter cry over her cupcakes, a birthday hat still on her head. Watching your child cope with the reality of no one showing up to their party would devastate any parent, but it was particularly difficult for Seel-Sorenson because of her daughter's disorder.
"It's hard enough to explain to a child who understands what's going on," she said. "But when you have a kid like Hallee, who doesn't understand and was hurt for the first time in her life…as a parent, it was horrifying." They took the food they had bought for the party and donated it to a local homeless shelter, and then went home.
Hoping to ensure that this year's birthday is better than last year, Sorenson's cousin, Rebecca Prefontaine, recently shared the photo on Facebook along with a heartfelt request for birthday cards to help make her cousin's 19th birthday epic. Prefontaine says her cousin loves getting mail, so this would be, "the best birthday gift she could ask for."
Prefontaine's request comes complete with some sweet words about her cousin. "She lights up a room with her smile. Hallee is funny, sweet, caring, smart, an athlete, a jigsaw puzzle champion, a wonderful student, and a best friend to all," she writes. "Hallee is an amazing person — a person I am proud to be related to. She is also a person who just happens to have autism."
The former teenager in all of us can imagine how it must have felt to sit and wait in vain for your guests to arrive. And whether or not your children fall on the spectrum, as parents we can relate to wanting our kids to not only find true friendships, but also have birthday parties where the only tears are happy ones.
Happily, Prefontaine's post has already been shared over 200,000 times and cards have already started making their way to Maine in time for Sorenson's July 2nd birthday. Since the post has started to gain attention, Sorenson and her family have created a Facebook page to share some of the support and birthday wishes that have already come in. While people have asked if they can send gifts, Seel-Sorenson says she is grateful for the offer, but a card is truly wonderful on its own, as her daughter can get overwhelmed by having lots of gifts to unwrap.
If you want to send Sorenson a birthday card too, here's her address:
Hallee Sorenson
34 Wellesley Way Bangor, ME 04401
This article was originally published on