Autistic Teen Takes Sister To Prom, They Get Turned Away At The Door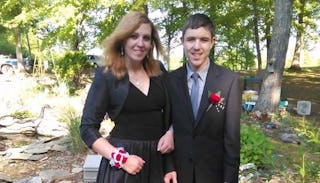 Autistic teen misses senior prom when school won't allow sister in with him
When 19-year-old autistic teen Jayce Whisenhunt didn't have a date to his senior prom, he asked his sister. When they showed up at the door, they were turned away because she was too old. You have to be 20 or younger to attend senior prom, his sister is 24.
Apparently all the administrators there that night were robots who must follow directions meep! — not people. There's no other understandable explanation as to why they couldn't bend the rules a little.
"I was really excited and I was getting all ready. I couldn't wait to go," Jayce told News 2. "I asked her because I don't have anybody else for a friend, nobody else to hang out with. I don't got nobody else I know from school." His sister Jessica Helling told the news station, "Tears of joy filled my eyes because I was so honored for him to ask me."
When they got to Montgomery Central High School, Jessica was turned away at the door. Jayce followed because he did not want to be there alone.[related_post]Jessica said, "It was heartbreaking. It took everything for me not to bawl… because he had looked so forward to it."
"He had nobody to invite to the prom because he has no friends," Jacye's father said. "They should make a rule for special needs kids. Every kid deserves to go to their prom."
It's the school's policy for the safety of students that no one over 20 be admitted. If students want to bring a guest who does not attend the school, they need to submit their name. Jessica is a graduate of the school. The school insists that if the family had contacted them beforehand they would have made special arrangements: "The student's family should have contacted the school before the moment that prom was to start…" she added. "We would have been happy to work with any family that has special needs or otherwise and that did not happen." The family claims they were unaware of the age limit.
Simply, it didn't occur to the family that this would be a problem.[related_post] Their mistake was already made, admittedly, when Jayce walked out the door that night. It's too bad the school didn't bend a little to help rectify it so Jayce could enjoy his prom.
There's nothing more frustrating than when people blindly follow rules to the detriment of common sense. They could have made a phone call. If they would have been willing to work with the family beforehand, why not the night of?
This isn't something that can be undone.
This article was originally published on