Here's An Instagram Account You'll Actually See Your Own Parenting In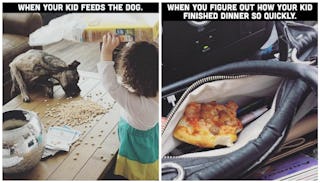 Image via Instagram
Hilarious Instagram account showcases all the ways kids are destroying our lives
There are some things that happen over the course of raising your kids that even you probably wouldn't believe if you didn't witness them with your own eyes. Thankfully, we have cameras, and social media, to collect the evidence.
Ilana Wiles of the popular Mommy Shorts blog is doing just that with her hilarious Average Parent Problems account on Instagram. She gathers photos from besieged parents across the internet and posts them to IG for the world to see. The result is 267,000 followers who can relate to both the horror and hilarity of having kids.
Usually, the pictures most people post online are a lot tidier, and put forth a much rosier picture of parenting, than most moms and dads experience. Which is what makes this account is so refreshing. There's nothing tidy about most of these photos. The reality of parenting is a little more complicated than most social media accounts would have you believe. And a lot funnier too, so long as it happens to someone else.
The images on this account leave no aspect of parenting unsullied. From nap-time not quite working out as planned…
…to birthday celebrations going awry…
From family vacations not exactly panning out in perfect memories…
…to holiday traditions not panning out in perfect memories…
The photos are a mix of Ilana's own – with two kids, it's clear she has no shortage of misadventures, many of which she shares on her blog – and submissions from her readers. I'm pretty sure she'll never run out of material.
Isn't it cute when your kids try to help with the chores?
I remember thinking I was going to raise an adventurous eater. It's not long before your kids break you.
Some mornings, you wake up inspired, determined to take the perfect photo. But your kids have other plans.
With this hilarious Instagram account, you can laugh at someone else's misery. Just be careful you don't get sucked in, because if you're not paying attention, your kids are probably off creating their own submissions!
This article was originally published on