Man Photoshops Himself Into Celeb Photos And They're So Much Better Than The Originals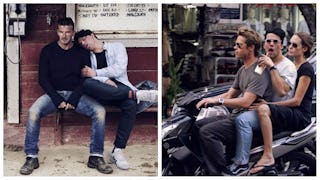 Image via Instagram/ Average Rob
Average Rob is living his best life – on Instagram
If we didn't know better, we'd think this Belgium hunk really was Taylor Swift's ex. Thanks to his mad Photoshop skills, "Average Rob" has grown quite the following by inserting himself into famous photos of celebrities.
And it doesn't even matter that the photos are fake because they're pretty realistic and, more importantly, hilarious. "Nowadays, there are millions of super-fancy photo shoots of celebs, it doesn't even look real anymore," Rob told Insider. "It doesn't look fun and it looks way too serious. People take it too seriously. And that's where I come in."
https://www.instagram.com/p/BJvK-g3hb9-/?taken-by=averagerob
Here is with dreamy blade runner, Ryan Gosling.
https://www.instagram.com/p/BZyr9r7BNTm/?taken-by=averagerob
But for someone with such a glamorous online presence, Rob maintains that he's just a regular person. His bio reads: "mediocre dude from Belgium." He explains further: "I decided to call him 'Average' because that's the vibe I want to create with my Photoshops."
Here he is with another handsome actor named Ryan.
https://www.instagram.com/p/BY8njTbByGg/?taken-by=averagerob
It's important to Rob to keep his fake photos realistic and some what believable.
"I try to be as relatable and close to reality as possible. You're not going to see [me] look pretty [in] any of my pictures," he shared.
https://www.instagram.com/p/BNw3ENChP26/?taken-by=averagerob
Here's Rob hanging with his bestie, David Beckham. Rob has created so many good fake photos with the soccer superstar that we're not sure they aren't real friends.
https://www.instagram.com/p/BUMyWeEBh56/?taken-by=averagerob
Above all else, though, Rob just wants to make people smile more.
It's not just hot celebs Rob parties with, though. Here he is with 44th President of the United States Barack Obama.
And one of his favorite Photoshops ever is this gem with Obama and former Vice President Joe Biden.
This shot has to be our favorite, though, because we have all been missing this man something fierce since January.
https://www.instagram.com/p/BPfajUUhoCN/?taken-by=averagerob