This Couple's 'Awkward' Engagement Photos Are Everything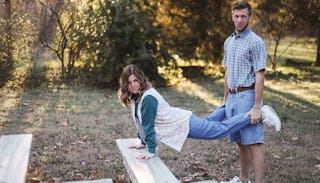 Image via Evergreen Film Co.
Why be romantic when you can be hilarious?
It's easy to understand why a couple would want gorgeous and ethereal engagement photos. After all, they've decided to spend their lives together and that's pretty romantic. However, it's not the vibe all future brides and grooms are after, as evidenced by this hilariously amazing engagement shoot.
You're going to want to be couple BFF with these two. Trust us.
When Caitlyn Campbell and Andrew Tucker approached photographer Zoee Davis of Evergreen Film Co. to do both their wedding and engagement photos it sounded like their events would be conventional. Davis tells Scary Mommy, "We met at a local coffee shop to get a feel for each other and answer any questions they might have had before they chose me. Everything up until that point had been pretty normal."
And then, it wasn't normal. In the best possible way.
"When we were discussing the engagement shoot, they told me their idea. As they explained a "Masterminds" themed shoot that would fit right in on the Awkward Family Photos website, I felt like I would explode with excitement," says Davis.
Behold: the results.
That's it. I want a redo on my boring, romantic engagement photos. This is way better.
Of course, as Davis notes, it's totally fine to be gushy and serious at a time like this. "Most couples want serious, cinematically romantic, engagement photos that look like they would be featured in a fashion magazine. There is absolutely nothing wrong with that. That's actually what I specialize in!"
We feel a "but" coming. And here it is. "But to have two young, beautiful people who are deeply in love come to you and explain that they have raided Goodwill and bought jorts and Skechers Shape-Ups is like a breath of fresh air in the photography world!"
It's a breath of fresh air in pretty much every world, because these are epic.
Davis says, "We laughed so much that day! We laughed when we were doing the serious pictures. And REALLY laughed when they broke out the second-hand garb and the awkward started flowing!"
Yes, they did "normal" engagement photos too. And they're absolutely beautiful.
Sorry, not sorry, we totally prefer the awkward pics.
All in all, Davis was simply wowed by the couple's adorable bond. "The more I got to know them, the more I saw what kind of love they had. They are perfect for each other, Shape-Ups and all."
We can only hope there will be an "awkward" portfolio of wedding day photos too.
This article was originally published on