Axe Body Spray Condemns Trump Riots More Strongly Than Most Of The GOP
by Christina Marfice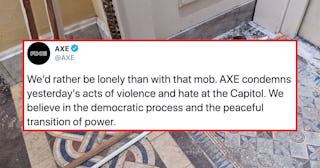 AXE/mikedebonis/Twitter
It took Axe Body Spray just a few hours to condemn the violence of the Trump riots — longer than Trump himself
On Wednesday, pro-Trump rioters left a rally where the president spoke, telling them to go to the Capitol and "show strength." They listened to his words, and proceeded to storm the U.S. Capitol building, where joint sessions of Congress were trying to certify the election the Joe Biden won fairly and decisively. They pushed past police, broke windows, climbed walls, and occupied the building for hours, ransacking Statuary Hall, the Senate Chambers, and offices of lawmakers like Nancy Pelosi. And when they were finally cleared from the building by the National Guard, destruction and litter were left in their wake — including a single can of Axe body spray that was photographed by Washington Post reporter Mike DeBonis.
Just hours after DeBonis shared that photo, Axe itself had responded, writing, "We'd rather be lonely than with that mob. AXE condemns yesterday's acts of violence and hate at the Capitol. We believe in the democratic process and the peaceful transition of power."
That means that Axe Body Spray was faster to condemn the violent riots at the Capitol than Donald Trump himself, who didn't do so until late Thursday night, as his Cabinet and aides resigned in protest and lawmakers discussed forcibly removing him from office.
It also means that Axe has now condemned the riots more harshly than any number of GOP lawmakers.
There's Rep. Matt Gaetz, who insisted on the House floor that the far-right mob that wore MAGA gear, openly organized the riots online for weeks, and started their day at a Trump rally, was not actually made up of Trump supporters.
"Some of the people who breached the Capitol today were not Trump supporters. They were masquerading as Trump supporters and in fact, were members of the violent terrorist group antifa," he said. OK.
There's also Gabriel King, a Republican from Colorado Springs who told NPR, "It's hard to see it happening. But on the other hand, it's like, I'm tired of being bullied by the scum in D.C. They're not accountable to anybody. They lie about everything. And they're just criminal trash. And so I'm like, thank God. I mean, somebody finally did something."
To their credit, I guess, most prominent Republican lawmakers have condemned the violence itself. But all but a very small handful have stopped short of condemning Trump's part in inciting the riots. When Axe Body Spray is more courageous than half of Congress, well, you have America.
This article was originally published on