Babies As Young As 5 Months Old Are Being Detained By ICE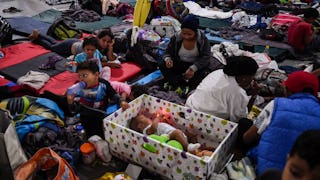 Image via ALFREDO ESTRELLA/AFP/Getty Images
Innocent infants are being detained by ICE and not receiving the care they need
In a disturbing letter recently released by three immigrant advocacy groups, it's being reported that at least nine infants younger than a year old, including a baby who is just five months old, are being held in custody at a rural Texas detention center — without receiving the proper care that is legally required.
The letter, written by the American Immigration Council, American Immigration Lawyers Association, and Catholic Legal Immigration Network, Inc., was addressed to the Department of Homeland Security's Inspector General and Officer for Civil Rights and Civil Liberties earlier this week.
The advocacy groups claim there has been an "alarming increase in the number of infants" being held in ICE custody at the Texas detention center. They are urging the department to intervene immediately.
They say they have "grave concerns" about these vulnerable babies, and rightly so. "Concerns include lengthy delays in receiving medical attention and lack of appropriate follow-up treatment," the letter states. "Medical and mental health experts, including DHS-ICE's Advisory Committee on Family Residential Centers (ACFRC), have also admonished the detention of young children, even for brief periods of time."
Multiple groups, including Physicians for Human Rights (PHR), have tirelessly advocated against the detention of children ever since this inhumane practice of detaining children became just another tenement to the Trump presidency last year.
"PHR is alarmed about the inherent health risks for infants in detention, as infants have specific health needs which detention centers are ill-equipped to meet," the letter continues. "The Department of Homeland Security's medical and psychiatric experts have extensively documented the significant threats of harm to children from detention, after visits to U.S. Immigration and Customs Enforcement family detention centers."
Children kept in youth detention centers often develop mental illnesses and behavioral issues. Studies have shown that they display symptoms of post-traumatic stress disorder, depression and anxiety; these kids often have nightmares, wet the bed and refuse to eat, which can last even after their release.
Imagine what these babies must be suffering through. The most fundamental relationship in an infant's life is the parent/baby bond. To imagine a five-month-old being detained in a facility like this without proper medical care or love is unfathomable. And yet, it's their reality.
In the U.S., most parents take their child on monthly well visits to the pediatrician during their child's first year of life. What about these babies? "Infants are especially vulnerable to serious illnesses, pain, disability, and even death from preventable infections and diseases," the letter states. "For this reason, the American Academy of Pediatrics has formulated a strict vaccination schedule at such well-visits. Yet ICE has failed to demonstrate its ability to provide regular preventive care which could detect potentially serious complications that could arise while in detention."
The reports only get more brutal from there. The facility where these infants are being detained is located in Dilley, Texas, which is an hour from San Antonio, the nearest city with specialized medical services.
Some mothers in the facility have reported that their babies are not feeding well due to sudden changes in formula, which is absolutely not how you go about safely changing a baby's formula. Other mothers say their babies have become sick, agitated, had trouble sleeping, and lost weight since arriving at the center.
It's utterly heartbreaking to imagine the fear and trauma these mothers and their babies are forced to endure at the hands of ICE.
"We urge your office to intervene immediately on behalf of this uniquely vulnerable population to demand the release of these families from custody to permit them to continue fighting their cases outside of detention," the letter concludes. They urge the Department of Homeland Security to review all records and medical services available to the detained infants as well as the qualifications and availability of the medical personnel on staff.
As of now, neither the Department of Homeland Security nor the Office of the Inspector General have issued a response to this letter.
This article was originally published on