8 Perfect Gifts For Baby's First Holiday Season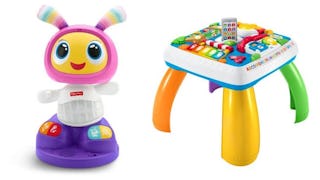 Images via Walmart.com
Baby presents are the best presents, and these are foolproof hits
Anyone who says babies don't need Christmas gifts because they're babies obviously has never had a baby. Or has a thing against babies, maybe? Anyway, of course babies should still receive holiday presents — from Santa, from relatives, from you, or all of the above!
Here's a handy guide on what toys are met with success among those esteemed members of the Baby Community.
The Beatbelle/Beatbo is one heck of a popular toy for babies and toddlers. It dances, sings, moves, lights up, and best of all — records baby's voice and noises and repeats them in a way that is honestly delightful. Snatch one up as soon as you can, they go fast!
While your first instinct may be "Why would I get a teether as a present?" hear us out. This isn't just any teether — it's Sophie the Giraffe. And it will keep your teething, drooly baby occupied and their gums satisfied for hours and hours on end. There's just something magical about this teether — don't ask questions. Just buy it.
This little octopus provides tons of bathtime fun. Each of the colorful rings loops onto an octopi leg, plus little ones can chew on every single inch of this toy to their heart's content.
If you're looking for your baby to find some stimulation and exercise in a safe, fun contraption — look no further. This jumper can follow you to the kitchen as you cook dinner or provide a safe space so you can fold some clothes or — gasp — just get 10 minutes of time to breathe for yourself. Also? Babies love these.
This activity table plays music, lights up, and provides hours of motor-skill fun for babies and young toddlers — it's a great transition toy, too. It helps babies pull themselves up and gain sturdiness while also giving them some fun learning moments, too.
Before you ask, YES, books are great gifts. Especially lift-the-flap books like this one. They'll want you to read it over and over again so they can discover what present is hiding behind each flap. There are more books in this series too, for every holiday.
There's nothing babies love more than stuffing things into other things. Which is why this shape sorter is perfect! It's a soft, carry-along box so it's perfect for travel or for baby to just move from room to room. Refining motor skills while learning shapes and satisfying that "stuffing stuff into stuff" urge makes this a great toy that will last a long time.
Does this xylophone encourage quiet play? Nope, not in the least! But it's so cute watching baby bang and slam each key as their face lights up with pure delight at the music they're making. It's a surefire hit as far as gifts go.
If you're looking for holiday gifts for your own baby or a baby in your family, please allow this gift guide to provide you with the items you need to cement yourself as the #1 favorite in your child's life. (We kid, we kid.)
We are a participant in the Walmart.com Affiliate Program and may earn fees by linking to Walmart.com and affiliated sites.
This article was originally published on