KFC Gives Baby $11,000 College Fund For Being Named After Colonel Sanders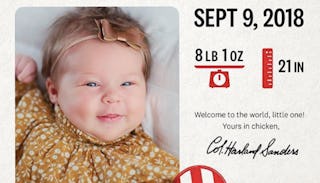 Image via Instagram/KFC
This baby won an impressive $11,000 from KFC because of her name
A new Colonel Sanders has risen in the ranks – and she's a a very adorable, 8 pound baby. KFC has officially crowned the winner of their Baby Harland Naming Contest, which offered a whooping $11,000 in college tuition money to the family who names their child after Colonel Harland Sanders. That's a finger-lickin' good deal, indeed (and c'mon, the name Harland is pretty cute).
Okay, let's rewind for a second. This contest came about because KFC was worried that the Colonel's name was losing its popularity (it hasn't made it into the top 1,000 baby names in about seventy years). In an effort to bolster their ambassador's reputation, the fast food chain decided to hold a baby naming contest.
The first family to name their newborn Harland on September 9th – aka the Colonel's birthday – would win $11,000 for their college tuition fund. The company chose that particular number because there are 11 herbs and spices in the Colonel's chicken recipe (are you hungry yet?)
While "Harland" wasn't originally in the name game for Anna and Decker Platt, they heard about the KFC contest and decided to go for it. Harley was born at 12 seconds after midnight on the 9th.
"Ever the entrepreneur, Colonel Sanders bounced back from a series of failed jobs and business ventures to found Kentucky Fried Chicken in his 60s," a KFC spokesperson tells The Atlantic. "We couldn't think of a better way to honor him than to help support Baby Harland's future successes with a college donation."
Well, welcome to the world Harland Rose. She's ridiculously cute, rocks a bow like no other, and is officially part of the KFC family. Win-win-win. Also, according to USA Today, the family actually plans on calling her "Harley" for short, which I get.
"I'm as pleased as pumpkin punch to announce the winner of our Baby Harland Naming Contest and the Harland who will be ushering in an all-new generation of Harlands, little Harland Rose," the restaurant chain writes on Twitter.
The money is being put into a college fund for Harley by KFC. With an assumed 8% rate of return, it could accumulate to about $44,000 when she's ready for school. Which is actually pretty awesome.
Now, is it too much to ask that Harley get free chicken for life? I mean, c'mon. College tuition money is definitely great but an endless supply of wings would put this prize over the edge.
Here's to you, Harley. A world of chicken lovers bow down to their new reigning queen.