Chip Gaines Shares Close-Up Photo Of Baby Crew: 'My Heart Is Full'
by Julie Scagell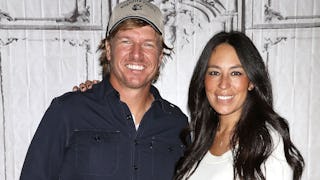 Image via Laura Cavanaugh/WireImage
Baby Crew is as gorgeous as you'd imagine
As most of the world knows, Chip and Joanna Gaines of HGTV fame welcomed their fifth child earlier this summer. Little Crew joined the clan on June 23rd and though we've seen glimpses of him from afar, the proud dad shared a new photo of his adorable son, and he's as gorgeous as we'd imagined.
The couple first announced they were expecting baby number five last fall and since then we've all been patiently waiting for a close-up. Well, the wait is finally over and it was so, so worth it.
"My heart is full," Gaines wrote next to the photo of Crew peacefully slumbering in his dad's arms. As with anything Chip and Joanna touch, he is as gorgeous as his siblings Emmie Kay, 8, Duke, 9, Ella, 11, and Drake, 13. I mean, look at that face!
Joanna has shared a few photos of his short life so far and each one has been more adorable than the last. She also revealed little Crew couldn't wait another minute to join the family, sharing that he "made an unexpected (and speedy) entrance into the world two and a half weeks early – which is fitting given he was a sweet surprise from day one."
And judging by this pic she shared, his siblings were just as excited to meet him as he was to get here. "One of my favorite pics a friend showed me after Crew was born. They couldn't wait to meet their new baby brother," she captioned next to a photo of them (im)patiently waiting outside their mom's hospital room.
The happy couple first announced they were expecting again last fall. They also ended their beloved HGTV show Fixer Upper after five seasons in favor of spending some more quality time with their family. But the ambitious duo have no plans of slowing down entirely. They have a new TV show in the works, continue to flip houses, open a new restaurant aptly named Magnolia Table, and released a cookbook.
But it was on Fixer Upper where the public fell in love with the family as they shiplapped every surface area of houses and shared moments with their kids. It was clear to anyone who watched the show how much they all adored each other. And baby Crew seems to be the icing on the cake for the couple.
Crossing fingers this is just the first of many photos we get to see of the newest little Gaines.