Dove's #RealMoms Campaign Shows Us What Modern Day Moms Look Like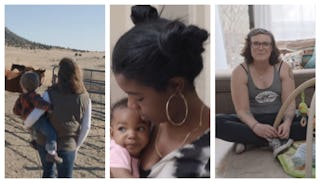 Images via Dove
"There are no perfect moms, only real ones"
As moms, we're constantly feeling pressure — from the media, from strangers in the store, from ourselves– to be the perfect parent. Dove is here with a powerful video to remind us that the "perfect mom" is a myth. We're doing a great job as our "real mom" selves, and we don't need to change a thing.
Dove's known for launching powerful campaigns alongside new products. The company recently released a line of baby care products along with a new ad called #RealMoms. The ad features six moms who are all raising their babies in very different ways and proves there's not a single right way to be a mother.
There's the mom who's raising her son on a ranch, and the stay at home mom who's navigating her new role while figuring out how to politely tell friends and family to take their unwanted advice elsewhere. There's a trans mom raising her baby with her lesbian partner, fielding constant questions from people about the makeup of their family. There's a single mom who enjoys being able to make her own parenting decisions, a rock climbing mom who's hobby helps her maintain a sense of self, and a kickass break dancing momma.
All of these women lead vastly different lives, but they're all still fantastic parents. It seems obvious, but the message is an important one; sometimes even though you're giving it your best, you can still feel like it's not enough.
In a study that covered six countries called 'Real Mothers Heard', 9 out of 10 of mothers said they feel pressure to be a perfect parent. Fortunately moms are also starting to realize that the mom who's got it all together doesn't actually exist. In a study of U.S. moms conducted by Dove, 95% of new moms said they think real motherhood is different than how it's portrayed in the media and only 26% of new moms said they though it was even possible to be a "perfect" mom.
Moms today realize it's possible to both be a loving parent and do things for yourself. We don't have to have our lives revolved around our kids 24/7 if we don't want them to. Ninety-four percent of moms in the survey said they feel like they can care better for their babies when they care for themselves, too. Eight out of ten said they don't think they have to give up their other hobbies and passions to be a good parent. Eighty-three percent said while they like to be known as a mother, they don't want that to be the only thing they're identified as.
Despite what you read on the internet or see on the television, you don't have to be a baking, cleaning, yoga machine who dominates Pinterest in her spare time in order to be a successful mom. There's a million different ways to be a mom, and each one is equally valid.
As the video says, "There's no one right way to do it all."
This article was originally published on