Baby Falls Asleep In Mom's Arms During Flood Rescue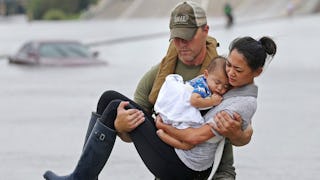 Image via Louis DeLuca / Dallas Morning News
Facing Hurricane Harvey with babies or small kids made it even more terrifying for some
Of all the images to come out of Hurricane Harvey and its aftermath, this one might be the most iconic: A man carries a woman through knee-deep flood waters while her infant son sleeps, cradled against her chest.
The moment was caught by Dallas Morning News photographer Louis DeLuca on Sunday morning, after Brays Bayou overflowed and floods rose throughout Houston. Thanks to the Dallas Morning News, we now know the man doing the rescue was Houston SWAT member Daryl Hudeck, the woman was Cathy Pham and the baby was Pham's 13-month-old son, Aidan. Pham and her family had retreated to a loft bedroom in their home as two feet of water flooded the first floor in the early hours of Sunday, but as the water continued to rise, they realized they were trapped.
"We were waiting for daylight to try to get out, but by that point the water kept rising and rising and it was unsafe to even try to get out [by truck]," Pham's husband, Troy Pham, told the Dallas Morning News. So he took his kayak down the street toward the sound of voices and found members of the Houston SWAT team. One of them was Hudeck, who carried Cathy Pham and little Aidan to safety. During the rescue, Aidan fell asleep, and the iconic photo was captured.
"The wind was blowing, he felt comfortable and he fell asleep," Troy Pham said. "I have to say he felt some relief, too, because we weren't as anxious."
As people all over the Gulf were evacuated and rescued throughout Hurricane Harvey's duration, those with babies and small children faced an even more terrifying experience. The Phams weren't the only family with a baby that ended up needing to be rescued from flood waters; many families took to social media to beg for help, and some of them were trapped with babies and children.
Now that they've gotten out of their home safely, the Phams just want to be able to thank everyone who's been helping with rescues since Harvey made landfall. They weren't able to get contact information for Hudeck, the SWAT team member who helped them, but they hope to.
"I would have liked to say 'thank you' and somehow get his contact info get the whole crew together to say thank you and repay them for rescuing us," Cathy Pham said.
Troy Pham added, "It's hard to put the feelings of gratitude into words for their efforts and putting their lives in danger."