95% Of Baby Foods Tested In U.S. Contain Toxic Metals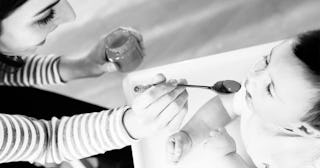 JGI/Jamie Grill/Getty
The majority of baby food sold in the United States contains lead, arsenic, cadmium, and/or mercury
According to a new report released on Thursday, October 17, 2019, the food you are feeding your baby likely contains toxic heavy metals that could be damaging to their brain development. The organization Healthy Babies Bright Futures commissioned the tests of 168 different types of baby foods from major U.S. manufacturers. They found that 95% contained lead, 73% contained arsenic, 75% contained cadmium, and 32% contained mercury. Additionally, a quarter of the baby food tested contained all four heavy metals.
"The chemicals found in baby food — arsenic, lead, cadmium, and mercury — are neurotoxins that can permanently alter the developing brain, erode IQ, and affect behavior," researchers explained.
https://www.instagram.com/p/B3t0Pljj869/
The most toxic type of baby food was found to be those that are rice-based, ranging from cereal to snacks. "These popular baby foods are not only high in inorganic arsenic, the most toxic form of arsenic, but also are nearly always contaminated with all four toxic metals," the report said.
Specifically, four of the seven rice cereals tested by Healthy Babies boasted toxic levels of arsenic, exceeding the FDA's proposed action level of 100 parts per billion (ppb). According to the Food and Drug Administration, rice has the highest amount of arsenic than any food in general, which is why health experts urge the importance of rinsing rice before cooking it.
Puff snacks and teething crackers — used by so many parents to soothe their baby's emerging teeth — also contained high levels of arsenic. Next on the list of toxic offenders included foods with juices in them and root vegetables like carrots and sweet potatoes.
So, what can you do to minimize your baby's exposure to these metals? While your first instinct may be to buy organic, that isn't going to help much. "Parents can't shop their way out of these exposures by choosing organic foods or by switching from store-bought brands to homemade purees," researchers wrote. "Heavy metals are naturally occurring in soil and water and are found at elevated levels in fields polluted by pesticides, contaminated fertilizer, airborne contaminants and industrial operations. Food crops uptake these metals naturally." They also pointed out that how the food is processed may also impact the levels. "Organic standards do not address these contaminants, and foods beyond the baby food aisle are equally affected."
Instead, researchers suggest swapping out foods. For example, giving your baby rice-free snacks instead will reduce their toxic metal exposure by 93 percent. Swapping rice cereal for oatmeal or multi-grain will result in a 84 percent reduction while offering them water instead of fruit juice will decrease exposure by 68 percent.
And to reiterate, these four toxic metals are not just found in baby food — they are found in all food. "They occur naturally or from pollution in the environment," reads the study. "Crops absorb them from soil and water, and they are even found in organic food." This means that making your own baby food, unless these specific ingredients are omitted, won't make much of a difference.
This article was originally published on