Who Needs A Baby When You Can Just Dress Up A Kitten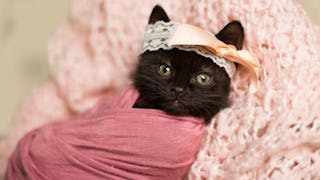 Image via Kitty Lee Photography
This "newborn" kitten shoot went viral and now the photos are being used for a great cause
A photographer who's used to subjects of the human variety dabbled in a little kitten photography — to hilariously adorable result. After her daughter got a new kitten, the mom saw an opportunity for a newborn shoot of a different sort.
And the internet (and an animal shelter) is eternally grateful.
Kitty Schaub (yes, Kitty's her real name) is a photographer at Kitty Lee Photography and also, has a new kitten in the family. When her daughter Amelie finally got her much-begged-for kitty, Schaub decided to commemorate the occasion with a "newborn" photoshoot for nine-week-old Luna the kitten.
Yes, complete with twee headbands and newborn-style wraps.
Schaub tells Scary Mommy, "My daughter is five. She's been dying for a kitten, and we decided it was finally time. We just did a quick shoot as a cute little joke, we had no idea it would be so loved all over the world."
It was beyond loved. The original post has been shared more than 64,000 times on Facebook with hundreds of comments from people positively squeeing about the adorableness of the images. A response so huge Schaub decided to do something far more amazing to capitalize on the obvious love the internet has for this dolled up baby kitty.
That's right. A whole year of ridiculously cute kitten photos for a great cause. "All profits will benefit a local animal rescue, Save A Stray. Luna has a happy home, but let's help some other kittens find theirs!"
So, adopt a kitten in need of love and then book a newborn photo shoot with Schaub, who says she's willing to give it a shot. "I typically do human babies but if someone had a sweet calm kitten I'd be happy to do it!"
Then, you could decorate your entire home with images like these.
Your human children might be a little jealous, but who could resist that sweet face? Throw in the great cause this calendar benefits and it's an obvious must-have item. Also, Schaub isn't releasing several images because they're part of the calendar, so all the more reason to make the donation and get your own copy.
We hope more new kitty parents hit up Schaub for their own photo shoot so we get to keep seeing this cuteness all over our Facebook feeds.
This article was originally published on