Here Are The Baby Name Trends Predicted For 2022
by Kristina Johnson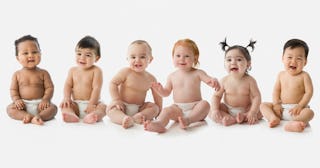 Jose Luis Pelaez Inc/Getty
Playful baby names will be all the rage in 2022
Choosing a baby name is one of the most sacred duties of a parent. One, because your kid is going to be saddled with said name for the rest of their life, and two, because you're going to have to listen to yourself yell it twenty times a day for a minimum of 18 years. Every parent wants a name that fits their child, and while many moms and dads are OK with the classics (and the subsequent need for their kid to use their last initial to differentiate themselves from the three other Johns and Sophias in their class), others are all about keeping it current. Well, we're starting to get some predictions on popular baby names for 2022, and they are nothing if not trendy.
Baby name site Nameberry predicts that the pandemic will have an influence on baby names for 2022, but not in the way you might expect (thankfully).
Instead of more little Coronas or Covids running around (actual names allegedly chosen by the parents of twins born in 2020), the site thinks that after a heavy year, playful names will be all the rage:
Bear
Birdie
Baby (yes, really)
Trixie (or Pixie!)
Lulu
If we end up with a president named Lulu Bee Bird Jones in 2070, you'll have COVID to thank and/or blame.
Names inspired by nature are also expected to be hot, once again thanks to the pandemic.
After all those months spent cooped up inside, parents-to-be may be looking to honor the great outdoors with their name choices. Top possibilities there include:
Bay
Ocean
Palmer
Prairie
Woods
You're going to hear a lot of Bridgerton names next year.
Of course, what's hot in Hollywood tends to be what's hot everywhere else. Few shows were bigger in 2021 than Bridgerton, and fans are eagerly awaiting a second season. Names inspired by the fictional family could blow up:
Benedict
Cressida
Daphne
Eloise
Francesca
Portia
Baby boys with unisex names are trending, too.
Nameberry is also predicting that a trend we've seen in recent years will reverse. Instead of baby girls being given gender-neutral or even traditionally male names (who doesn't know a girl named Charlie or Ryley at this point), more baby boys might get unisex style names. Option include:
Blair
Sasha
Winter
Holland
Laurie
Names ending in "S" are on the rise.
While a few years ago, names ending in "N" were everywhere (think Aiden, Brayden, Jaden, Caden…) in 2022, Nameberry predicts names ending in "S" could reign supreme.
Banks (just like Hilary Duff's toddler)
Wells
Rivers
Atlas
Ames
Nameberry also predicts parents could go for "Euro Chic" names (Viggo, Laszlo), "Punchy R" names (Reed, Rogue), musical names (Drummer, Major), retro names (Etta, Gus), and spiritual names (Soul, Promise).
Only time will tell if Nameberry's predictions come true, but if none of the above sound quite right for your little one, try clicking here for some more inspiration.