Italian Boy Names For Your Bellissimo Bambino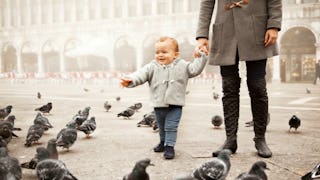 Orbon Alija/Getty Images
Italian boy names sound quite dashing, don't they? All those vowels and Zs! And unlike some names, Italian boy names make it clear what culture they're derived from. People won't have to question whether names like Vincenzo and Giovanni hail from Italy. They'll just know by the distinct sound. It's a great way to show some Italian pride … or at least show your deep adoration for the country and culture.
Whether you're paying homage to your Italian heritage or just love the romantic feel they impart, these Italian boy names will be perfect for a baby boy who's sweeter than a scoop of gelato.
Naming a baby can be scary. We can help! Check out our baby name database here.
Aldo
Alessandro
Alfonso
Alfredo
Alonzo
Angelo
Antonio
Armando
Carmelo
Cristian
Cristiano
Danilo
Dante
Dario
Dominic
Eliseo
Emiliano
Emilio
Enzo
Francisco
Franco
Gerardo
Giancarlo
Gianluca
Gianni
Giovanni
Gustavo
Julius
Leandro
Leonardo
Lorenzo
Luca
Luciano
Marcelo
Marco
Mario
Matteo
Mauricio
Nico
Orlando
Ricardo
Roberto
Rocco
Roman
Romeo
Salvatore
Santino
Sergio
Valentino
Vincenzo
This article was originally published on