Black, White, And Gray Baby Names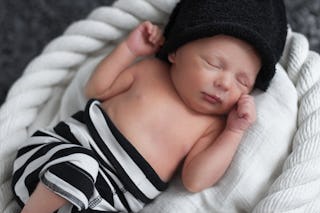 Alexandra_Philippova/Getty
Color baby names are big right now, but we can't forget that there are some pretty amazing names associated with a lack of color too!
If you're fifty shades of frustrated with the baby-naming process, why not turn to the dark side … or the light … or anything on the spectrum in between? From Onyx to Snow, this list shows that naming your baby isn't just black and white. Or is it?
Naming a baby can be scary. We can help! Check out our baby name database here.
Ash
Cinder
Diamond
Dove
Dusty
Flint
Frost
Gray
Ivory
Jett
Onyx
Pearl
Raven
Shadow
Silver
Slate
Snow
Steel
Sterling
Stone
Winter
This article was originally published on