Boy Names That End In "Y"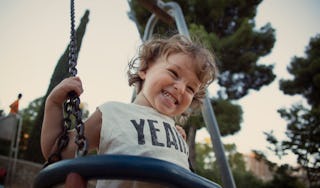 Mayte Torres/Getty
This comprehensive listing of boy names ending in Y includes classic favorites such as Andy, Jimmy, and Ray. But then there are the more unexpected and modern choices, too: like Rafferty and Embry, Jordy and Gendry.
Whether you're looking for an old standby or a new favorite, these boy names ending in Y will be really lovely for any baby boy (see what we did there?).
Naming a baby can be scary. We can help! Check out our baby name database here.
Adley
Andry
Andy
Anthony
Avery
Bay
Beaudry
Bellamy
Bentley
Berkeley
Bexley
Billy
Bobby
Bowery
Bradley
Brady
Brantley
Brentley
Briley
Brody
Buddy
Camry
Carbry
Cary
Casey
Chevy
Clay
Cody
Colby
Corey
Cory
Crosby
Danny
Dusty
Elegy
Ellery
Embry
Emory
Eury
Finley
Freddy
Gary
Geddy
Gendry
Gentry
Grady
Gray
Gregory
Hardy
Harley
Harry
Hartley
Harvey
Henry
Huxley
Indy
Ivory
Jacoby
Jay
Jeffrey
Jeremy
Jerry
Jersey
Jetty
Jimmy
Joffrey
Johnny
Jordy
Kenny
Kerry
Kingsley
Kirby
Kody
Landry
Legacy
Leroy
Liberty
Loxley
Majesty
McCartney
Mercury
Montgomery
Morrissey
Murphy
Navy
Oakley
Oakley-unisex
Percy
Perry
Quincy
Quinley
Rafferty
Rally
Ramsay
Randy
Ray
Remy
Renly
Rey
Ricky
Ridley
Riley
Riley-unisex
Rocky
Rory
Roy
Rudy
Sandy
Shay
Sky
Sonny
Sperry
Stanley
Story
Sunny
Teddy
Terry
Theory
Timothy
Toby
Tommy
Tony
Trey
Trinity
Troy
Ty
Wesley
Westley
Wiley
Zachary
This article was originally published on