These Names For Winter Babies Are Super Chill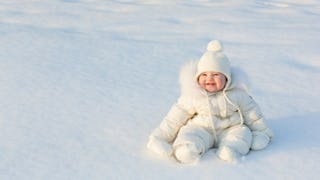 FamVeld/Getty Images
Names for winter babies are important, because you've got to choose a moniker that's as cool as your kid. Did you know that winter babies are more likely to be born bigger, start crawling earlier, and have better long-range eyesight in adolescence than babies born in other seasons? These are just of the few reasons why babies born in winter are extra-special.
If your winter months are bringing more than just ice and snow this year, why not cozy up to one of these chill names for winter babies?
Naming a baby can be scary. We can help! Check out our baby name database here.
Alaska
Aspen
Breeze
Cinder
Coco
Crystal
December
Denver
Diamond
Dove
Elsa
Everest
Frost
Garnet
Gray
Holiday
Icy
Ivory
January
North
Silver
Sky
Snow
Solstice
Timber
Winter
Wynter
This article was originally published on