Down-To-Earth Nature Names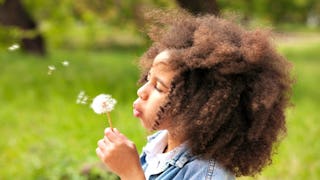 AmeliaFox/Getty Images
Nature names are a natural choice (see what we did there?) for your little one. After all, everyone is a part of this earth, just as much as the plants, animals, features, and elements on this list … and we hope that, like things in nature, our babies flourish and grow freely.
Whether you spend lots of time outdoors or not, we can all agree there isn't much that inspires us like nature. So why not bring a little of that soul-nourishing nature vibe into your family with a natural baby name?
From geographical features, to plants that take root and bloom, to the creatures that crawl, swim, and fly, these nature names pay homage to the things that connect us all.
Naming a baby can be scary. We can help! Check out our baby name database here.
Alder
Amaryllis
Apple
Arbor
Ash
Aspen
Aster
Autumn
Bay
Bayou
Bear
Belladonna
Birdie
Breeze
Briar
Brooks
Buck
Bunny
Burr
Camellia
Canyon
Cedar
Clay
Cliff
Clover
Colt
Coral
Coriander
Cove
Coyote
Dahlia
Daisy
Dawn
Dew
Dove
Drake
Falcon
Fern
Flint
Forrest
Fox
Frost
Fuchsia
Ginger
Hawk
Hawthorn
Heather
Herb
Holly
Honey
Hyacinth
Indigo
Iris
Ivy
Jaguar
Jetty
Juniper
Lake
Lark
Laurel
Lavender
Leaf
Lilac
Lotus
Lynx
Magnolia
Maple
Marigold
Marsh
Meadow
Moss
Myrtle
Oakley
Ocean
Orchid
Otter
Pansy
Peach
Peony
Pepper
Petal
Pike
Plum
Poppy
Posy
Primrose
Puma
Rain
Rainbow
Raven
Reef
Ridge
River
River-unisex
Robin
Rocky
Rose
Rosemary
Rowan
Saffron
Sage
Savanna
Shell
Shore
Sky
Snow
Solstice
Sorrel
Sparrow
Spring
Starling
Stone
Stormi
Summer
Sunny
Tansy
Teal
Tiger
Timber
Tulip
Violet
Willow
Winter
Wolf
Wren
Zinnia
This article was originally published on