Classic Dutch Baby Names For The Little Tulip In Your Life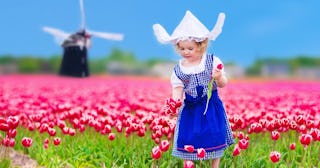 FamVeld/Getty Images
A region renown for its tulip fields, windmills, and artistic contributions to Western culture, the Netherlands and the Dutch people gave us Rembrandt, Vincent Van Gogh, and the mastermind behind "Girl With Pearl Earring," Johannes Vermeer.
They also gave us strong sounding Dutch baby boy names like Dirck, Barend, Jan, and Lars. And melodic baby names for girls like Annemie, Arabella, Karianne, and Verena.
Famous celebrities of Dutch descent include Audrey Hepburn, Eddie Van Halen, James Van Der Beek, Mark-Paul Gossler, and Elmo. Okay, so maybe the fuzzy red monster from "Sesame Street" isn't Dutch. But his name sure is! And it has a vibrant origin!
Naming a baby can be scary. We can help! Check out our baby name database here.
Aleta
Anki
Annemie
Arabella
Barend
Betje
Bonifacius
Bram
Dael
Dirck
Ede
Elmo
Espen
Francesca
Gerrit
Gust
Hans
Haven
Hendrik
Issac
Jaap
Jan
Karel
Karianne
Lars
Markus
Maryse
Mina
Pim
Rozamond
Schuyler
Schyler
Verena
Wilona
This article was originally published on