If You Like Ava, You'll Love ...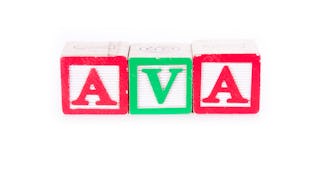 brackish_nz/Getty Images
Ava has soared to the top of the popularity charts as one of America's darlings, because it's so darn cute. And though it's still a great choice, there are other options that have similarities, but aren't used quite as often.
Discover the rest of our "If You Like …" series: Sophia/Liam/Noah/Emma/Ethan
Naming a baby can be scary. We can help! Check out our baby name database here.
Ada
Adia
Amaya
Ana
Ari-unisex
Avalyn
Averie
Avi
Aviana
Ayla
Bria
Cora
Eira
Eva
Eve
Evie
Geneva
Haven
Ivory
Ivy
Java
Jayda
Jovie
Kaya
Kia
Liv
Maeve
Mavis
Mila
Miya
Navy
Naya
Niamh
Nova
Olive
Orla
Raven
Revel
Savvy
Sylvie
Teva
Vada
Vera
Vivi
Zara
This article was originally published on