If You Like Emma, You'll Love ...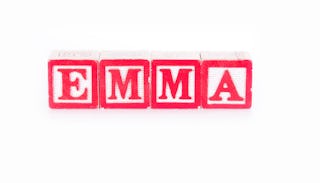 brackish_nz/Getty Images
Emma is an adorable name — and a lot of people share that opinion, as it's one of the most popular baby girl names around. If you like the sound of Emma, but want something that isn't top-ten status, consider these equally adorable options.
Discover the rest of our "If You Like …" series: Sophia/Liam/Noah/Ethan/Ava
Naming a baby can be scary. We can help! Check out our baby name database here.
Ada
Aine
Alma
Amaia
Amelie
Amma
Amora
Anya
Demi
Elia
Ella
Ember
Embry
Emerie
Emilia
Emrys
Esme
Etta
Eva
Gemma
Hana
Imara
Isa
Jenna
Kama
Lana
Lena
Lola
Luma
Luna
Maia
Mila
Nia
Noemi
Remi
Salma
Selah
Willa
This article was originally published on