If You Like Ethan, You'll Love ...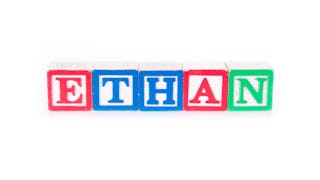 brackish_nz/Getty Images
Ethan has been in the top 25 most popular baby boy names for nearly twenty years — at one point reaching as high as #2. There's no problem with using a classic (just look at the staying power of John!), but if you're looking to branch out without straying too far from Ethan, here are some great alternatives.
Discover the rest of our "If You Like …" series: Sophia/Liam/Noah/Emma/Ava
Naming a baby can be scary. We can help! Check out our baby name database here.
Alden
Alton
Anson
Asher
Ashton
Avery-unisex
Callen
Colton
Deacon
Devin
Eason
Easton
Edwin
Elan
Elton
Emery-unisex
Ephraim
Evan
Ewan
Griffin
Heath
Josiah
Keagan
Kiefer
Leland
Lincoln
Lucian
Mathias
Nathan
Negan
Nolan
Rylan
Stellan
This article was originally published on