Perfectly Patriotic Americana Baby Names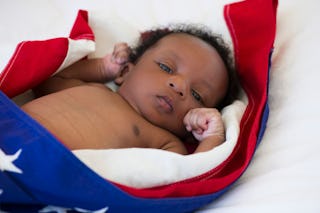 Daniel Grill/Getty Images
Americana is defined as "things associated with the culture and history of America, especially the United States." And you can consider this your go-to list for all Americana baby names.
From virtue names like Justice and Valor, to place names like Chicago and Boston, to the name America itself, this list of Americana baby names encompasses some of the places, people, pastimes, and pieces of history that make the United States what it is.
If you ever wanted a baby name that's as "American as apple pie" — or at least, associated with Americana — you've come to the right place!
Naming a baby can be scary. We can help! Check out our baby name database here.
Ace
Alaska
Amber
America
Anthem
Apple
Aspen
Banner
Bayou
Berkeley
Blue
Boone
Boston
Bronx
Brooklyn
Burr
Cannon
Canyon
Chicago
Dakota
Dallas
Dixie
Ford
Glory
Grant
Gunner
Hamilton
Harbor
Honor
Hudson
July
Juneau
Justice
Knox
Legacy
Liberty
Lincoln
Majesty
Major
Maverick
Mckinley
Memphis
Navy
Phoenix
Pike
Ranger
Rebel
Rocket
Rocky
Sailor
Savannah
Sawyer
Scout
Shiloh
Star
Stetson
True
Valley
Valor
Virginia
Washington
This article was originally published on