Princess Names That Rule!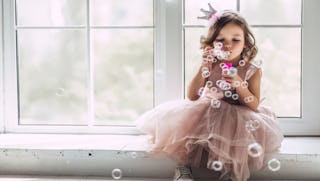 Vasyl Dolmatov/Getty
Princess names are a perfect choice for your little princess. The world is full of princesses of all types — real and fictional, from frilly fashionistas to badass, iron-fisted rulers.
This list of princess names encompasses them all, from actual princesses like Charlotte and Beatrice to our favorite invented princesses like Aurora, Daenerys, and yes, Princess Peach.
Naming a baby can be scary. We can help! Check out our baby name database here.
Aiko
Alexandra
Anastasia
Anna
Ariel-unisex
Aurora
Beatrice
Camilla
Caroline
Catherine
Charlotte
Claire
Daenerys
Diana
Elizabeth
Elsa
Estelle
Fiona
Gabriella
Grace
Ingrid
Jasmine
Leia
Madeleine
Marie
Mia
Peach
Sofia
Stephanie
Tiana
Victoria
Zelda
This article was originally published on