Totally Un-Scary Names Inspired By "The Walking Dead"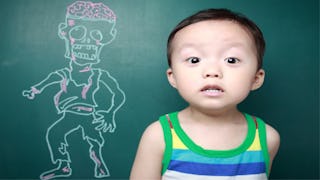 real444/Getty Images
Even if the undead give you the creeps, "The Walking Dead" characters give you some serious inspiration for baby names. Who wouldn't want a daughter as strong and confident as Michonne? Or a son as loyal and protective (and bad-ass) as Daryl? Even the villainous Negan has his good points – his trendy unisex name, for example.
Naming a baby can be scary. We can help! Check out our baby name database here.
Aaron
Abraham
Alexandria
Alpha
Andrea
Beth
Carl
Carol
Dale
Daryl
Dixon
Enid
Eugene
Ezekiel
Gabriel
Glen
Henry
Hershel
Jadis
Jerry
Jesus
Judith
Lizzie
Lori
Lucille
Lydia
Maggie
Michonne
Morgan
Negan
Rick
Rosita
Sasha
Shane
Shiva
Siddiq
Tara
Tyreese
Walker
This article was originally published on