Très Jolie! French Girl Names For Your Belle Fille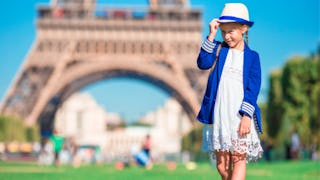 travnikovstudio/Getty
French girl names have a flowing, melodic quality that make them especially enticing. If you are French, wish you were French, or just love everything about the culture — especially the feminine, romantic-sounding French girl names — then this is the list for you, mes amis.
If the romantic sounding names aren't your cup of tea (er, glass of champagne?), we've also included some strong unisex French names too, such as Blaise, Landry, and Marion.
Naming a baby can be scary. We can help! Check out our baby name database here.
Adele
Adeline
Amelie
Angelique
Aveline
Belle
Blaise
Blanche
Brielle
Camille
Caroline
Celeste
Chanel
Charlotte
Claire
Clara
Claudette
Coco
Colette
Coralie
Delphine
Desiree
Dior
Dominie
Dominique
Elaine
Elise
Elodie
Eloise
Emmeline
Esme
Esprit
Estelle
Etienne
Fleur
Gabrielle
Genevieve
Gigi
Giselle
Ila
Isabelle
Jacqueline
Joelle
Jolie
Josephine
Juliette
Landry
Leonie
Louise
Lucille
Madeleine
Maison
Mallory
Margot
Marie
Marion
Matisse
Mauve
Melanie
Melisandre
Michelle
Mireille
Monet
Nancy
Nicole
Noelle
Nouvel
Paris
Pauline
Remi
Renee
Rosalie
Sabine
Soleil
Sophie
Sylvie
Valerie
Vivienne
This article was originally published on