'O' Baby! 16 Unique Baby Names With A Long O Sound
by Rita Templeton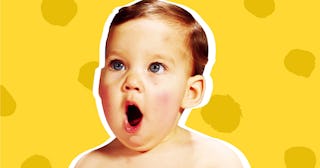 Scary Mommy and H. Armstrong Roberts/ClassicStock/Getty
Baby names with an O sound in them are all the rage: just ask Olivia and Noah, who have been in the top 10 most popular names since 2001 and 2009, respectively. Or Sophia, which has been a top-ranking favorite in countries all over the world.
Whether it's the first letter, tucked into the middle, or bringing up the rear, any name featuring an O is right at home in today's baby-naming landscape. In fact, naming experts have predicted that the O sound is going to turn out to be one of the hottest baby name trends of 2019.
These are a few of our favorites for both boys and girls, names that keep in step with that fashionable sound but aren't overused … at least, not at this point.
One part Ella, one part Melody, this name (which is the French version of the Greek name Alodia) is a unicorn: fitting in perfectly with current trends, yet still relatively little-used.
This classic literary name is best known from Shakespeare's Hamlet, but it's also featured in Harriet Beecher Stowe's Uncle Tom's Cabin. Like Elodie, it blends sounds from popular names — in this case, Olivia and Amelia — but hasn't skyrocketed into the top names yet. At this point, it stands at #373 on the U.S. Social Security Popularity Charts.
According to the "Hundred-Year Rule," Margot is poised to make a comeback — and it is! This French name was originally derived as a diminutive of Marguerite, but now has become a more popular name in its own right.
This one's a naming trend double-whammy, as it encompasses the popularity of both the O-sound and the nature name trend. That being said, while it's definitely on the rise, it's still fairly obscure.
In the same botanical baby name category, we've got Posy. It's a name full of old-fashioned charm that brings to mind a sweet little bouquet of flowers. You could also spell it Posie or Posey.
Fun fact: this name was also used by Shakespeare, in his play Cymbeline. But in the play, it was Innogen, not Imogen. As the play's script was copied and re-copied over time, it morphed into Imogen. So basically, it's a typo. But a beautiful one!
This unique (and uncommon) beauty is actually the Polish variation of a very popular name: Sophia! It's gorgeous on its own, but can also be shortened into Zo, Zosie, or Sia.
If nature names are in, it only stands to reason that bird names fall into this category (we're in love with the name Wren, for starters). And seeing as this one's a gender neutral name, you can start getting it embroidered on all the things before he or she is even born.
Another great unisex choice, this one comes from a slightly harder to pronounce Gaelic surname (O'Sluagháin) and has a cool meaning: "raider." If you want to make it a little more feminine, you can spell it Sloane, with an E on the end.
Take a dash of Miles (which is currently in the top 100) and add the trendy O sound, and you've got this gem — which has risen in popularity every year since it re-entered the popularity charts in 2001.
This is the Italian form of the Greek name Helios, meaning "sun." Despite its trendy combo of popular sounds, and close proximity to popular names like Elliot and Leo, this one hasn't even cracked the top 1,000 in the charts … yet.
This name is sometimes alternatively spelled Bode or Bodie for ease of pronunciation, but this spelling is a Sanskrit term meaning "enlightenment." And, if people still aren't sure how to pronounce it, there's always the option of calling him the adorable nickname Bo.
Another name most famously associated with literature — in this case, Holden Caulfield from J.D. Salinger's novel The Catcher in the Rye. It originated as a surname, so it fits in nicely with other fashionable last-names-turned-first-names like Parker and Beckett.
Short and sweet, like its similar names Milo, Leo, and Theo, this one's an old fashioned name that's making a fast-burning revival. Between 1900 and 1944, it was consistently on the charts, but only reached as high as #667 (in 1915) before dropping off the charts. It reappeared in 2011 at #914 — and has reached its current peak of #278 today.
This was a favorite for decades, hovering in the top 500 names for a full eighty years. It dropped off the charts briefly after 1994, but came back in 2015, thanks to the resurgence of that O-sound. It's been climbing ever since.
Owen and Rowan are both wildly popular, so it's only natural that Bowen should have its time in the spotlight too. It can be whittled down to the rocker-esque nickname Bowie, or pared even further (like Bodhi) into a simple Bo.
If you're looking to capitalize on the long O trend that has catapulted Noah and Olivia into the spotlight, but don't want the popularity that goes along with those names, these out of the ordinary long O baby names will prove to be more than just … "O"-kay.
No matter what letter you're leaning toward, you can find the perfect name for your little one — plus fun and inspirational baby name lists — in Scary Mommy's baby name database!
This article was originally published on