The End Must Be Near Because 'Baby Shark' Just Hit The Billboard Chart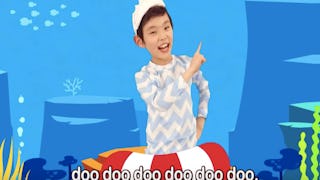 Image via YouTube/Pinkfong
It's on the radio now. Yay!
Doo doo doo doo doo doo! If you're a parent of a young child, you can finish that sentence in a sing-songy voice that makes you want to laugh and cry at the same time. And if you thought you'd only be forced to hear "Baby Shark" when your kids watch YouTube, today's your lucky day — the song has made its way to the Billboard Hot 100.
And by lucky, we mean very, very unlucky.
The viral song that swept most households with little kids in 2018 not only made it onto the list, it came screaming in at No. 32 for the week ending Jan. 12. Not only that, it garnered 20.8 million streams last week alone, according to Billboard.com. There's a whole lotta suffering parents out there.
For those of you who haven't heard of "Baby Shark," please listen to the video above, you'll definitely thank me later when you can't get the song — or the dance — out of your brain. Though the song/nursery rhyme dates back decades (and requires full dancing participation from all family members), it wasn't until 2016 when Pinkfong, a South Korea-based educational brand, created the version we all know and love today.
Obviously, people had mixed feelings about it becoming a Billboard hit:
https://twitter.com/jetpack/status/1083433436256391169
The song also precipitated the "Baby Shark Challenge" that had kids, police officers, firefighters, and celebs like Ellen Degeneres acting out the lyrics — many jumping out of their cars to do so. It's become a bit of a phenomenon (hello, they even sell Baby Shark plushes that sing), attracting over 2.1 billion global views on YouTube to date (making it the 30th most-viewed video in the platform's history).
But it's not about the celebs, the real heroes are the parents who've had this song on repeat for the past year and have managed to stay sane (mostly) in the process. Just one more time, mom, please?
According to Billboard, streaming is the main reason for the song's Hot 100 entrance, and also "moved 3,000 digital downloads in the tracking week. It places at No. 2 on Kid Digital Song Sales, which it led for 11 weeks, beginning in September."
As with any viral challenge/trend, eventually the noise dies down and you're left with the memories of days gone by, dancing in your kitchen with the kids, watching the clock tick down to bedtime. As these things go, there will be another kid-favorite right around the corner. Until then, you can get your fix on the radio and on YouTube, so plan your car journeys accordingly.