Brace Yourself, 'Baby Shark' Cereal Is Swimming Into Our Lives
by Leah Groth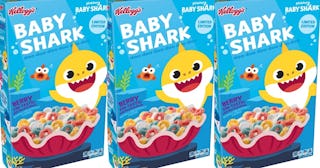 Kellogg's
Now you can doo, doo, doo, doo, doo your way through the grocery aisle
The "Baby Shark" phenomenon has seriously surpassed our wildest expectations. Once it was just a catchy tune, but since sparking joy in nearly every toddler in the world the infectious viral song has evolved into a television show, spawned a toy collection and even a live-action touring show. But if that's now enough, soon you will be able to feast on some "Baby Shark" as well — and we aren't talking sushi.
Beginning August 17, you will be able to pick up a two-pack of Kellogg's Baby Shark cereal at Sam's Club for just $5.98. The cereal will be exclusively available at the bulk store for 30 days before it swims on over to select Walmart stores in late September.
While we can't confirm the taste as of yet, the cereal reportedly features "berry-fin-tastic" flavored rings, floating with marshmallows (unfortunately, they aren't shark-shaped, but whatevs). We also have no idea if it has any nutritional value, but from the sounds of it we are guessing sugar is a key ingredient.
The viral tune has now gathered over three BILLION views on YouTube (yep, for realz) and has infiltrated our lives in a way that is seriously perplexing. I mean, how can one song create such a frenzy? And seriously, it could be quite some time before "Baby Shark" swims off into oblivion.
But in case you aren't sick of it like the millions of other little tots out there, you can head over to Amazon and drop about $70 on a shark-shaped plush toy that will play the tune with the push of a simple button. This means your kid can press it over and over and over again until they get their fix, which is likely never.
Or, you could buy tickets to the Baby Shark show, which will be touring more than 100 US and Canadian cities this fall. How can one song translate into an entire show? Round Room Live, the company producing it, explained to Billboard that the preliminary plans for the show aren't limited to the Baby Shark tune and will feature other hits from Pinkfong (the South Korean education brand responsible for the Baby Shark epidemic.)
Other songs that are not shark-related include "Five Little Monkeys," "Wheels on the Bus," "Jungle Boogie," and "Monkey Banana Dance," which will all be part of the stage show song and dance party. However, the live show will center around Baby Shark and also, a fox named Pinkfong, who is the mascot of the web series.
And once that Nickelodeon "Baby Shark" television show invades our television screens, there will be no escaping the doo, doo, doo, doo, doo, doos.
And maybe, if you are lucky, your kid can eat their Baby Shark cereal, watch the television show and play with the stuffed animal at the same time. Oh, so much to look forward to!
This article was originally published on