Baby Shark Is About To Be A TV Show On Nickelodeon Because There's No Escape
by Valerie Williams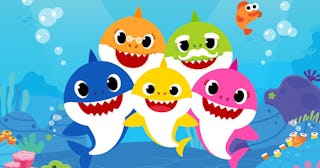 Nickelodeon
There's going to be a "Baby Shark" show on Nickelodeon in case you hadn't already lost your mind
The viral toddler/preschooler phenomenon that is "Baby Shark" has invaded all corners of our lives, pretty much. It recently hit the Billboard 100 (honestly, how?), the characters are all insanely expensive toys on Amazon, and there's even a heavy metal version of the ridiculously catchy tune that literally not one soul asked for.
Apparently, someone thought it wasn't enough, because now, it's about to be a brand-new television show on kids' network Nickelodeon.
Yup. It's true. "Baby Shark has captured the imagination of millions of fans around the world, so it's no surprise it's one of the top 10 most-viewed videos on YouTube ever," Ramsey Naito, EVP Nickelodeon Animation said in a statement. "At the heart of any popular piece of content is a terrific character, and we have a great opportunity to further explore the world of Baby Shark and follow this family through some great animated adventures on Nickelodeon."
Yes, we get it, it's very popular. But every parent ever after like, an entire year or so of Baby Shark on repeat is feeling some type of way.
Crazy. We're feeling completely crazy.
So the news that we're about to get even more Baby Shark in our parenting lives is a little… much. Yes, our kids love it. Yes, we love when they're happy. YES, it's cool AF when they're briefly occupied so we can pee/poop/think straight for one freaking minute, so an entire show with multiple episodes they can rotate through sounds pretty great. But that song is the ear-wormiest of ear worms and another hefty dose of it is kind of the last thing we need. We're already on the edge y'all. Stop testing us.
Deadline reports that the creators of the new show will work with Pink Fong, the company behind the original viral song. That means that no matter what this Nickelodeon show turns out to be, it will definitely be in the same vein as the that first smash hit.
There's no episode count or premiere date yet, so maybe there's a small chance your kids will lose interest in the insanely viral song and resulting merch before it hits the tube. Or not. It's super catchy, after all, and has been around since 2015. It currently has almost 2.9 billion views, so here you go — what's one or two million more?
This article was originally published on