Baby Shark Has A Valentine's Day Song, So Hide Your Kid's Tablet Until Feb. 15
by Valerie Williams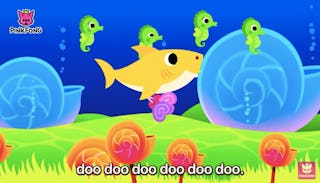 Image via YouTube
Baby Shark has a special song just for Valentine's Day — and it's every bit as catchy as the original
If your kids are into Baby Shark (and what kid isn't) we've got news that will have you hiding their tablets for the next week — or at least shutting off the WiFi as long as they're awake. There's a special Valentine's Day version of the earworm original tune just in time for the most romantic day of the year.
Because what says romance like wanting to snap your kid's iPad Mini over your knee to make it all stop?
The Valentine shark song has the same irritatingly catchy melody, characters, and endless "doo doo doo doo doo doo's" with some brand-new lyrics just for Valentine's Day. Oh, and there's also plenty of hearts and Valentine cards being floated around the sea by the entire Shark family. As you do.
DOO DOO DOO DOO DOO DOO. In our sleep. In our waking hours. All day, everyday.
Losing your shit yet? But with heart eyes this time? You're surely not alone.
Pinkfong's original Baby Shark song is an internet sensation and currently boosts over two billion views. Yes, billion. As in, 10 full digits.
And of course, the Baby Shark phenomenon has touched more than just your tablet, your phone, your toddler's heart, and your sanity. There's also Baby Shark merch, like these plush toys you can grab off Amazon for around $40.
Somehow, Mommy Shark is a dang bargain at only $29.85. Because of course no one recognizes her true worth.
Here's the Baby.
You could literally buy the whole family. I mean, why not? The song's already invaded every facet of your existence, might as well literally live with its stars.
I am slowly going crazy, 1, 2, 3, 4, 5, 6, switch.
The toy got reviews much like one would expect.
As the very first reviewer, a dad, says in his candid testimonial, called, "I expected to burn it in effigy. But we're keeping it":
"Okay, I put the delight of my kid above my own sanity." He also says, "This song… get it out of my head…"
Welcome to the club, buddy.
If, somehow, for some incredibly weird reason, you can't get enough of this viral torture tune, there's now a Baby Shark show coming to Netflix this year. Also, please know that your little one listening to this song 100 times per day along with millions of their addicted baby peers means that it hit the Billboard 100 chart last month.
The end is near, y'all. And it's full of super smiley singing sharks. But let's look on the bright side — we've been listening to the original since what seems like time immemorial, so at least now we have some new lyrics to pop into our heads during conference calls for work. Bless.
This article was originally published on