'Baby Shark' Is Back With Coronavirus-Inspired 'Wash Your Hands' Remix
by Julie Scagell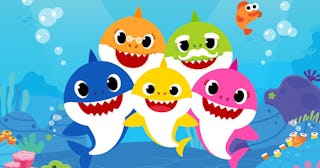 Nickelodeon
PinkFong and 'Baby Shark' are back to help with kids with handwashing
PinkFong is doing its part to help remind and teach your little ones to wash their hands and just released a coronavirus-ready version of its hit song "Baby Shark" titled, "Wash Your Hands." Apologies in advance and please don't shoot the messenger.
Just when you thought the Baby Shark craze finally died down, PinkFong is resurrecting it just in time for us all to be spending 100 percent of our time together at home. But, the kids love it and if it gets them excited about washing their hands, it's worth a shot.
The step-by-step lyrics are simple and to the point. "Grab some soap, doo doo doo doo doo" followed by "rub your hands, doo doo doo doo doo" then "rinse your hands, doo doo doo doo doo." The song also covers some other ways to stay healthy, including, "cover your sneeze, doo doo doo doo doo" and the harder to sing but equally important, "cough into your elbow, doo doo doo doo doo."
Baby Shark exploded on the scene in the U.S. a year-and-a-half ago and in the days since those "doo, doo, doo, doo"s started invading our homes and our dreams, the song's shark has turned into a kid's cereal, bath toys, a live musical and a television show. It seems you couldn't escape the song, mostly because it's one of those tunes that gets stuck in your head and is impossible to get out no matter how hard you try.
The video, which was released on March 21 and already has more than 3.2 million views, asks fans to join the #BabySharkHandWashChallenge to help slow the spread of coronavirus, which has already infected more than 620,000 people globally and killed more than 28,000 as of this morning.
Most of us wrongly assumed we'd left Baby Shark in 2019 but hey, 2020 is a steaming pile of poo so why not? If you hear the words "Baby Shark" and wish the song and everyone involved in the making, distributing, and airing of the song would accidentally be engulfed by a giant sinkhole (they would not be hurt, they just would just be damned to live there for eternity), you're not alone. But we're in a new age of cleanliness and it's imperative we are all washing our hands multiple times a day, and since most of us can barely get our kids to brush their teeth once a day, it's no easy task.
And so, here we are. Good luck parents. Here's hoping you have an outlet of your choosing (wine, screaming into a pillow, a hiding spot in your home that no one knows about) to get you through this trying time.
This article was originally published on