This 'Baby Shark' Fitness Video May Just Inspire You To Workout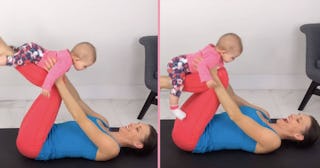 Pregnancy and Postpartum TV/YouTube
You've never seen 'Baby Shark' like this before
I know, I know. If you watch this next video, the "Baby Shark" song will most definitely be stuck in your head all day. But this new mom and postnatal fitness instructor is giving us good reason: a way to bond with our baby, burn a few calories, and, yes, entertain our child with a song that millions of kids adore.
The viral song and dance have literally been everywhere over the past couple of years. Over the summer, the tune hit the Billboard 100, the characters have been turned into crazy-expensive toys on Amazon, and there's even a TV show that not one parent asked for on Nickelodeon. Since we can't escape it, we may as well turn it into a chance to move our bodies, too, right?
Mom Jessica Pumple is a certified bariatric and diabetes educator, dietitian, and pre- and postnatal fitness instructor. According to her YouTube channel, she "helps pregnant women stay fit, have the healthiest babies and the easier labors," as well as "helps new moms with postpartum recovery, to heal and strengthen their core and lose the baby weight through non-gimmicky evidence-based strategies."
As a mom, Pumple knows we can't escape "Baby Shark," so if you can't beat 'em and all that. The workout video released back in 2018 shows her with her adorable daughter demonstrating great bodyweight exercises, like glute bridges, mountain climbers, and modified push-ups, all while using her baby as body weight.
The original "Baby Shark" video released by Pink Fong is in the top 10 most-viewed videos on YouTube ever. Though the song/nursery rhyme dates back decades (and requires full dancing participation from all family members), it didn't become popular until 2016. While it can get on your nerves (and stuck in your brain forever), there's a lot to be said for a good, wholesome song and dance that kids love. Plus, it keeps them entertained for a few precious moments, so parents can rest/shower/poop/cook or whatever else we can cram into several moments of relative peace.
For those of you who haven't heard of "Baby Shark," you'll definitely want to check out Pumple's video and you'll definitely thank me later when you can't get the song — or the dance — out of your brain.
Plus, if you've recently had a baby you know it's almost impossible to carve out time to workout. Pumple's video gives us the best of both worlds — playing with our kids and getting in a little activity at the same time. It can take a long time for our bodies to feel like ours again after pregnancy and childbirth; who knew "Baby Shark" would be able to help us with that, too?
This article was originally published on