16 Baby Shower Gifts Parents Will Actually Use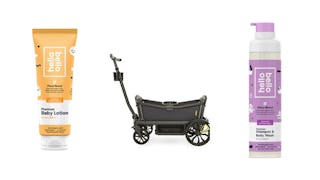 Walmart
We all want to buy the parents-to-be in our lives gifts they will be able to use versus crap that ends up sitting around taking up space and collecting dust. Look no further than this list which contains lots of things to help the ones who need it most — the parents.
First, get yourself a nice basket and fill it with the Hello Bello products made with plant-based ingredients, created by Kristen Bell and Dax Shepard, we adore:
Nothing beats that new baby smell, but babies need moisturizing too and this plant-based vanilla lotion is a close second.
Even if the new parents are going to be using cloth diapers, chances are they will need some disposable diapers in a pinch. You can feel good about giving them a box of Hello Bello diapers.
Every baby gets diaper rash at one time or another and only the best will do for a fresh bottom.
Shampoo and body wash makes bath time a bit easier, and we love this lavender scented one.
Babies are smooth and slippery — especially in the bath tub. This baby bath will come in handy, will stand the test of time, and can be used if there are others babies in the plan, or passed down to another family.
The rocker mama is a lightweight, portable rocker that you can take anywhere. It changes any chair, bench or wall into a rocking chair.
There are sure to be hours of holding and nursing a new baby. Most parents' arms wouldn't have made it through without a beloved Boppy.
This digital, no-touch thermometer is going to save every parent so much trouble. In just a few seconds, you can get your baby's temperature without causing them any extra discomfort.
This high chair will make traveling, dining out, and visiting friends so much easier. It folds up and can be stored in your car without taking up a lot of space.
The expense of cloth diapers adds up as fast as baby grows. We love this colorful pack of six.
A sterilizer is a huge time-saver, and we all know every parent needs more time. This one is BPA-free and is a great way to sterilize bottles and pacifiers.
The veer wagon makes a great group gift and the receiver will be so thankful. It's helped parents of the world with kids ages 0–5 get through the zoo, beach, and grocery store in one piece.
A baby-wearing wrap is a great way for mother and child to feel close and bond. We love this one — it feels great on the back and isn't bulky.
A machine that mimics the sounds your baby heard in the womb is the perfect way to help them settle in and block out other strange noises so you aren't tiptoeing around the house when they are sleeping.
Babies love to be swaddled, and these muslin blankets make it so much easier to wrap your new bean up like a burrito.
Babies move around when they sleep and we are constantly worried they are going to get chilly and wake up. A sleep sack is the perfect way to keep your tiny human snug and warm — no blanket required.
All these gifts are going to get a ton of use. Just make sure to pick out something you like in case you are next in line to have a baby of your own.
We may earn fees from purchases made via links on this page and affiliated sites. All opinions are our own.
This article was originally published on