Baby Showers For Men Are Here, And They're Way Better Than Ours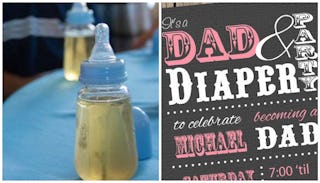 Say goodbye to boring games and hello to a lot of beer
Rejoice! The baby shower has gotten a makeover and is now officially fun. Technically the parties are called "baby showers for men" or "Dad-chelor parties." But they sound so much better than the traditional one that it could be time to retire the classic baby shower.
The trend is gaining popularity quickly, according to Pinterest. The term "man showers" increased by 149% and "co-ed showers" increased by 255% in 2015, Mashable reported. Co-ed showers are for mom and dad, but the relaxed vibe the dad-chelor parties specialize in is taking over the co-ed parties as well.
So what exactly goes into a baby shower for men? Well, besides the dudes, a lot of beer and typically a giant pile of diapers. There are no weird poop games or pretending to care about the onesie a distant relative sent. Instead, the host buys a ton of beer and makes chicken wings or other assorted snack foods. How many showers have you been to where the only food available were five different kinds of salads? Not at dad showers! Look at this spread of melted cheese, pretzels, and, of course, beer. Yes, please!
Instead of taking a quiz that only makes you feel bad for not knowing every fact about the miracle of childbirth, baby showers for dads have drinking games.
Another great thing about baby showers for men is that the only gift guests are expected to bring, besides more beer, is diapers. And no one expects you to dress them up. You get to avoid the hassle of wrapping an oddly shaped toy, and the new parents leave with months worth of diapers. A win-win for everyone. Even the themed crafts at dad baby showers are better. No more elaborate pastel monstrosities that seem like a good idea but never end up looking like the picture. The standards for dad showers are much lower, so these "crafts" can be thrown together the day of the party. Look at this one – beer, ribbon, done.
For the crowd that likes more than just beer.
And for the overachiever who really wants to bring beer and diapers together.
It is unlikely the traditional baby shower will disappear forever. It might be too hard to explain to Aunt Linda why all of your husband's friends are drinking beer out of baby bottles. But with their surge in popularity it is likely you'll be invited to one soon. RSVP "yes."
Feature image of invitation via Etsy
This article was originally published on