'The Baby-Sitters Club' Is Officially Coming To Netflix As A Live-Action Series
by Cassandra Stone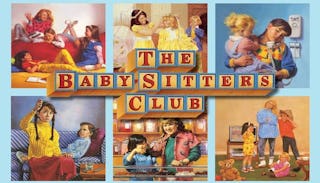 Image via Facebook/Netflix
Get ready to watch your favorite childhood book series come to life on Netflix
Roll call: Kristy, Stacey, Claudia, Mary Anne, Dawn, Mallory, Jessi — will all be present and accounted for in an upcoming Netflix series. Be still our BSC-loving hearts, because this is the loveliest news for anyone who loved The Baby-Sitter's Club books as a kid.
Netflix announced the amazing news on their Facebook page today, making the dreams of every bookworm millennial come true.
There are over 200 books in The Baby-Sitter's Club series, which have sold more than 180 copies worldwide, according to Variety. The books were previously adapted for a one series run on HBO back in 1990, and made into a feature film in 1995.
Netflix says the new series will be a modern take on the original books, which were first published in 1986. While it's kind of a bummer that the phone in Claudia Kishi's bedroom/BSC headquarters won't exactly be a novelty in 2019, it's extremely exciting to see these characters come to life once again.
In case you need a refresher, The Baby-Sitter's Club centers around the sports-loving, business-minded Kristy Thomas (who founded the club), the quiet sweetheart Mary Anne Spier, the always-fashionable Claudia Kishi, the Super Cool New York Elite Stacey McGill, and the California gal Dawn Schafer. They all live in Stoneybrook Connecticut and are very busy workers for a bunch of 13-year-olds (while many of us were that age when we started taking care of children, myself included, it now makes me wonder what the hell those parents were smoking).
Netflix says the show will be family-friendly (duh) and that the original author, Ann M. Martin, is officially on board as a producer — how awesome is that?
"I'm amazed that there are so many passionate fans of 'The Baby-Sitters Club' after all these years, and I'm honored to continue to hear from readers – now grown, who have become writers, editors, teachers, librarians, filmmakers – who say that they see a reflection of themselves in the characters of Kristy and her friends," Martin says in a statement to Variety. "So I'm very excited about the forthcoming series on Netflix, which I hope will inspire a new generation of readers and leaders everywhere."
She's damn right that we're still passionate all these years later. Through good times, bad times, and Puberty Times™ — I buried myself in those books. When my parents held garage sales, I'd sometimes sell giant portions of my BSC collection just so I could keep buying BSC books. And it seems like I'm far from the only longtime fan — those books made an imprint on so many of our hearts.
Remember the Super Specials? OMG. I used to daydream about my friends and I going on a mostly unsupervised field trip to a ski lodge. And we can't forget about the Babysitter's Little Sister series, because Karen was my 7-year-old self's book best friend. I hope my own daughter will fall in love with these books just like I did.
There's no release date set yet, but the team at Netflix is doing a pretty good job of selling the series to us (as if they need to, LOL).
"The themes of The Baby-Sitters Club still resonate 30 years after the original book series was released and there has never been a more opportune time to tell an aspirational story about empowering young female entrepreneurs," says Melissa Cobb, VP of Kids & Family at Netflix. "Together with Ann M. Martin and the team at Walden Media, our ambition is to contemporize the storylines and adventures of this iconic group of girlfriends to reflect modern-day issues."