We Are Opting For A 'Baby Sprinkle' Instead Of A Shower This Time Around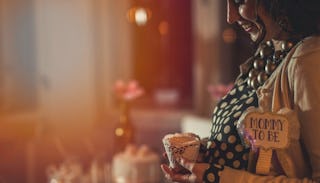 freemixer / iStock
When my husband and I found out that we were expecting baby No. 3, we were absolutely shocked. For starters, it had been less than a month before those two little pink lines appeared that we had finally given away the last of our baby gear. We were completely confident that we were done, and ready to move forward into the next chapter of our lives as a family of four.
LOL forever.
Our two kids were overjoyed at the news of a third child joining our rambunctious tribe, and so my husband and I began to relax into the news as well. That is, until we realized that we would have to replace all of the baby gear we had just shipped off to friends and various donation centers. Cue the panic.
Of course, with exciting news of a new baby comes the giddy girlfriend talk about picking names, and swaddling newborns, and nursing, and looking at adorable dresses and toddler sports coats, you know, all the things that get people so excited about babies. And of course, baby showers.
But when the talk of planning a baby shower came up, we hemmed and hawed at the idea.
At first, we thought it would be amazing to do a low-key baby shower where we would ask for only hand-me-downs. My heart bloomed at the thought of baby booties and beloved books that had made my friends' babies so happy. But as the conversations turned toward creating a registry, I realized that my dream of wanting something so specific wasn't going to be my reality.
So we canceled the baby shower plans and decided to aim for a come-meet-the-baby-party instead. A baby sprinkle versus the shower. As it turns out, this is quite the norm in Europe. In fact, baby showers are really a pretty American thing. In France, for example, families wait until a baby is born, and then friends and family come to meet the baby, bringing gifts for mother and child.
It's not that I am materialistic. Believe me, I am far from hung up on stuff. My aim here is to avoid the huge cache of baby junk that accumulates out of good intentions and clearance sales. My husband and I have been slowly purchasing the things we absolutely need like a baby carrier, a car seat, a crib, some clothes, and cloth diapers. There is little that remains on my scribbled note of what we need that I stuck to the fridge when I saw the two pink lines months ago.
And as we round the corner into the third trimester, it has occured to me that what I truly want, what my heart needs, is to be surrounded by friends and family who want to celebrate this new and little life that we're bringing into the world. I need the support, and the love, more than anything else they could offer.
The French have it right by celebrating a baby once it is earth-side. All of the oohs and ahhs, the passing of the baby into warm and loving arms of people who care about us, all of the tears and smiles, that is what I keep imagining when I think of this new spin on the baby shower idea.
There is nothing wrong with an American-style baby shower. I loved my showers, and I remember them fondly. They serve a function of helping a new family start out with all of the things they will need to get through the first few months, and that is an amazing way for a community to welcome a little life. But for this last baby, my final pregnancy (this time I mean it), I am envisioning something less about the stuff and more about the welcoming of my baby to our family. Instead of onesies, I want stories and hugs. (Also, casseroles.)