Baby Suffers Stroke After Exposure To Chicken Pox By Unvaccinated Siblings
by Thea Glassman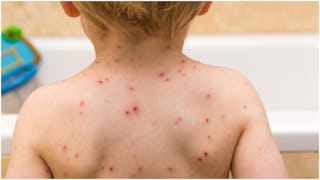 Image via John Kelly/Getty
An 11-month-old had a stroke after being exposed to his unvaccinated siblings
Today in really scary news, an 11-month-old boy had a stroke because of a chickenpox complication, which doctors are blaming on the child's exposure to his unvaccinated siblings. A recent report from the Journal of Pediatrics examined the young boy's case, and emphasized the dangers of not vaccinating children.
When the 11-month-old woke up from his afternoon nap, his mom noticed that his right arm and leg seemed weak. She took him to an urgent care center, where the doctor noted that the baby was having a hard time moving his limbs and face.
It turns out that the child, who was unvaccinated, had been infected by his unvaccinated siblings, all of whom had chicken pox about two to three months earlier. There's typically a lapse of time between when a child has chickenpox and the stroke hits (research has found children are most at risk during the six months following their outbreak).
This is a crucial, terrifying reminder about the importance of vaccinating children – not just for their safety, but for the safety of those around them. While the baby was too young to be vaccinated (you have to be one year or older), his siblings were definitely old enough to have gotten their shots, which could have prevented this whole awful health scare.
Also, TODAY pointed out that there has been a recent rise in chicken pox outbreaks, which is due to parents opting out of vaccinating their children. The issue – Dr. Tina Tan, a professor of pediatrics at Northwestern University, noted – is that people are underestimating the potential dangers of chickenpox.
"Everyone thinks it's a minor illness. There are a number of serious complications," she explained. "Basically, the chickenpox virus infects the large blood vessels in the brain and causes inflammation in them. The blood vessels can scar and that can decrease blood supply to the brain, which can lead to stroke."
And these strokes can have longterm consequences. "My read on this is that [the baby] will have some type of permanent neurologic sequelae from his disease," Tan said. "And it is possible that he might have another stroke if his arterial disease continues to worsen."
Vaccines have been proven, over and over again, to be the safest, smartest choice for children.
"Thanks to vaccines, most young parents have never seen the devastating effects diseases like polio, measles, or whooping cough (pertussis) can have on a child, family, or community," the CDC explained. "…Although your child may experience some discomfort or tenderness at the injection site, this is minor compared to the serious complications that can result from the diseases these vaccines prevent.
The American Academy of Pediatrics has also emphasized that vaccines are not linked to causing development disorders.
"Claims that vaccines are linked to autism, or are unsafe when administered according to the recommended schedule, have been disproven by a robust body of medical literature," the association noted. "Vaccines keep communities healthy, and protect some of the most vulnerable in our society."