Mom Creates Embroidered Keepsakes Out Of Ordinary Ultrasound Photos
by Valerie Williams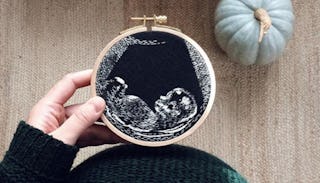 Image via Instagram/Veselka Bulkan
Artist turns ultrasound images into gorgeous embroidery keepsakes
There are so many lovely and crafty things a mom can do with ultrasound photos these days, and thanks to the power of the internet, we're seeing more than ever just how creative some women get. The latest example of ultrasound pic innovation? Having the image embroidered so you can display it forever.
New mom Veselka Bulkan is an insanely talented embroidery artist. She decided to use that talent in a whole new way while pregnant with her first child, and the results are breathtaking.
"I became pregnant at the beginning of the last year," she tells Scary Mommy. "I made an embroidery from my baby's ultrasound that I looked at every day during this season of my life while imagining what she will look like, and a keepsake of these beautiful days as well. I also used this as a unique way to announce my pregnancy."
After sharing her gorgeous work, others wanted in on this incredible pregnancy keepsake. "Meanwhile, I have got many inquiries, so I decided to accept custom orders beside my root vegetable embroideries at the end."
Yes, before stitching up stunning ultrasound embroidery, Bulkan embroidered these adorable root vegetable works of art.
What can we say, the woman is multi-talented. Now back to the ultrasounds.
https://www.instagram.com/p/BfbEY8bAerk/?hl=de&taken-by=catchtheinspiration
I may need to have one more baby so I can order one of my own.
https://www.instagram.com/p/BbsEFjBhFCx/?taken-by=catchtheinspiration
They're just too beautiful to be real.
Speaking of real, now Bulkan has real-life baby inspiration while completing her work.
We're just obsessed, to be honest.
https://www.instagram.com/p/BfOVfM0AuJd/?hl=en&taken-by=catchtheinspiration
https://www.instagram.com/p/BX8tPcVBmrN/?hl=en&taken-by=catchtheinspiration
We all get these grainy, black and white photos on flimsy paper and though we love them dearly, it's hard to know what to do with them next. Mine are tucked away in my baby keepsake boxes somewhere, and I suppose I could frame and display them, but they don't hold much interest on their own. An embroidered keepsake, however, is a whole other story. What an amazing shower gift (if you can convince a pregnant momma to hand over a copy of those precious ultrasound pics) or a gift to your pregnant self.
Oh, and can we emphasize what a unique pregnancy announcement this would make?
Bulkan tells PopSugar that her creations run about $300 each and could take a couple of weeks or even a month, as she's making the ultra-detailed works of art while also caring for her infant. "My husband and I never thought that the waiting list would be so long in the end," she says. "I have been able to do only a few up to now but am speeding up."
If you have a little patience, you can end up with the perfect keepsake — or extremely enviable pregnancy announcement.
This article was originally published on