5-Year-Old Gifts Baby Yoda Toy To Firefighters Battling Oregon Wildfires
by Kristine Cannon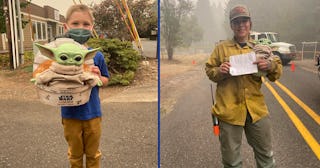 Baby yoda fights fires/Facebook
The Baby Yoda doll also comes with a handwritten note that'll leave you in a puddle of your own tears
All summer long, fire crews have been battling some of, if not the worst wildfires the country's ever seen; and to thank them for their ongoing service, a 5-year-old boy from Oregon has given firefighter crews a gift they won't soon forget.
Starting in Scappoose, Ore., a Baby Yoda toy and a handwritten note made its rounds to fire crews battling several fires in the state, including Lionshead Fire and Holiday Farm Fire.
"Thank you, firefighters. Here is a friend for you, in case you get lonely. Love, Carver," the note reads.
"The note travels with Baby Yoda, and it goes from fire to fire. So, we just pass it around," Oregon Department of Forestry's Marcus Kauffman tells The Register-Guard as he cradles the toy. "Baby Yoda is a source of light and the force in the world."
According to KPTV/Fox 12 Oregon, Carver and his grandmother, Sasha Tinning, found the Baby Yoda doll while shopping last weekend. "He was the last one on the shelf, just staring at us saying, 'Take me with you! I need to go with you.' So, that's kind of how it started," Tinning told the station.
According to family friend, Tyler Eubanks, who also runs the Facebook page "Baby yoda fights fires," which documents the doll's travels, Tinning and Carver purchased the doll for a local fireman supply drive.
"They thought the firemen needed him," Eubanks told Scary Mommy. "Carver wanted to put a smile on their faces and [he] hope[d] giving Yoda a hug would bring them comfort when they are away from home."
Eubanks, who ran the donation booth, hand-delivered the Baby Yoda to the fireman after he dropped off supplies. "I got allowed to go behind the line to find some," he added.
And from there, it took off.
"They thought it was so awesome," Eubanks said, "and [they] wanted to keep passing Yoda along."
"These ash-covered firefighters, just covered from head to foot, holding this Baby Yoda. Every one of those pictures just makes my heart warm," Tinning told KPTV. "He thought … if they needed a friend, because all of them are away from their families right now."
Eubanks is still amazed at how quickly the Baby Yoda pass-off took off.
"Just like an actual wildfire," he said. "I can't believe I got him there and got such an amazing response. These men and woman are out there for weeks and months away from their families it truly gives them something to smile about and be apart of."