Here's How Much Parents Are Paying Their Babysitters In 2019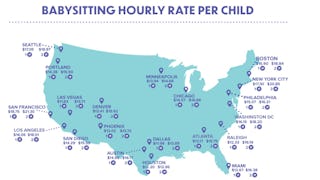 Image via Urbansitter
Urbansitter compiled the national averages for babysitting rates
Ever wonder if you've been accidentally overpaying or underpaying for a babysitter? Curious what other parents are paying their babysitters but it's a little too awkward to ask? Urbansitter, a babysitting network, just did all the work for you. For its 8th annual study, the company surveyed 28,000 families across the United States. They broke down the national average of child care rates, how often parents are hiring child care, and lots more interesting babysitting stats.
First, we got a nifty map that laid out the hourly rate by major city. The overall average cost is $16.75 for one child and $19.26 for two children. The most expensive city in the U.S. for child care is San Francisco, where babysitters are paid an average of $18.75 for one child and $21.30 for two children. Las Vegas is the cheapest, with rates at $11.63 for one child and $14.71 for two. New York City babysitters didn't fall too far behind San Francisco's average rates and are generally earning about $20.85 an hour.
RELATED: The Best Babysitting Apps for Finding Somebody to Watch Your Kid – Fatherly
So, how much are parents spending total on child care every year? 42 percent pay between a whopping $10,000-30,000 per child. A very small portion (4 percent) pay upwards of $40,000.
Now, let's talk summer when the kids are off school and babysitters become an even hotter entity. 59 percent of parents will spend $1,000 or more on child care this summer. There's a 2 percent bracket that will be paying over $10,000 for those warmer months.
Let's break it down even further. Urbansitter also figured out how often parents hire a sitter. 58 percent of parents pay for childcare at least once a month. 15 percent of those surveyed hire a sitter more than once a week.
So, how much does babysitting factor into parents just needing some time away from the damn house in the form of a date night? A whole lot. 40 percent of people surveyed said that they hire child care so they can have some "adult time away from the kids." Another 40 percent use the opportunity to "reconnect with [their] partner." Other reasons include relaxation, entertainment, great food, romance, and being active. I can co-sign all of the above.
Okay, let's talk about those date nights. The biggest night of the year to hire a sitter is for anniversaries. Birthdays, New Year's Eve, and Valentine's Day are also popular evenings that parents take off. BUT the parents surveyed also said that they'd rather book their favorite sitter over their favorite restaurant. Great babysitters, FTW.
Hopefully, this makes you feel a little bit better about taking some time off if you need to/are able to. You deserve it, damnit. And babysitters deserve every penny we pay them for the incredibly important job they do.
This article was originally published on