Dale Moss Just Dumped Clare Crawley Via Instagram
by Christina Marfice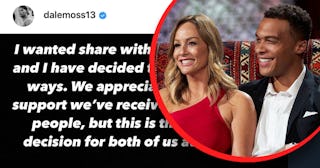 Dale Moss/Instagram and ABC
Clare Crawley broke all the rules for love on her season of The Bachelorette. Now her engagement seems to have ended
The Bachelorette was a wild ride during its 16th season, when Clare Crawley, a veteran of the franchise, started her turn in the starring role. Things seemed to be going well between Clare and a few of her suitors for the first couple episodes, but as time went on, it became extremely apparent — to both viewers and the rest of Clare's contestants — that she only had eyes for one of the men there: ex-NFL player Dale Moss. And so, prompted by Chris Harrison, Clare left her season early (to be replaced by the wonderful Tayshia Adams) and got engaged to Dale, something like 11 days after they met. It was either a fairy tale or completely insane, depending on how cynical you are about reality TV love.
For the first few months of their post-Bachelorette life, everything seemed great for Clare and Dale. They posted Instagram pics of trips to New York together, meeting each other's families, and a romantic photo shoot in the snow over the holidays.
Clearly, though, things weren't as "happily ever after" as they seemed. Over the last few days, Clare and Dale have been seemingly breaking up, with all the messy details of their split playing out publicly on Instagram. Bachelor (and Bachelorette) Nation, are you ready for this tea?
Early in the week, there were rumors swirling that Clare and Dale were over, but no one seems to really know where those rumors came from. They had both just posted photos from a romantic-looking San Diego beach day, and all seemed well. Then, Wednesday night, Dale dropped this post.
https://www.instagram.com/p/CKPlh-RLHsc/
"I wanted to share with you all that Clare and I have decided to go our separate ways," he wrote. "We appreciate the love and support we've received from so many people, but this is the healthiest decision for both of us at this time."
To put it lightly, Bachelorette fans were shocked. But even more so when the next morning, Dale's post was gone. He apparently archived it, because it appeared again later on Thursday with the original timestamp. Whew.
Thursday morning is when Clare posted a statement of her own, and from the sound of things, she was completely blindsided by Dale's public announcement of their breakup. Ugh, steel yourself, because this statement will break your heart, no matter how you feel about Clare.
"I was made aware of a 'mutual' statement at the same time you all were, so I've needed some time to really digest this," she wrote. "Speaking for myself, my intentions with this relationship have always been very clear, so the truth is I am crushed. This is not what I expected or hoped for and am still trying to process this."
She continued, "2020 was on hell of a year, with covid, battling extreme anxiety post-show, balancing a public new relationship, all while slowly losing my mother. It hasn't been ideal circumstances, but that is life."
So at least for now, it does seem like Clare and Dale are over, despite all the messiness and ambiguity of this breakup. Even though her Bachelorette season was a little bit of a hot mess, we can't help but feel for Clare right now, and hope she's doing OK.
This article was originally published on