The Backstreet Boys Performed 'I Want It That Way' From Their Separate Homes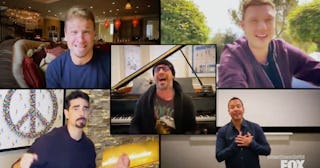 FOX
All the Backstreet Boys were back together and better than ever
Last night, Fox aired the iHeart Living Room Concert for Americans who are spending their days at home and looking for ways to connect and stay entertained. While the free concert featured many talented performers, it was the Backstreet Boys' performance of their hit "I Want It That Way" that most definitely stole the show.
The hour-long program was hosted by Elton John and featured amazing performances from Alicia Keys, Billie Eilish, Billie Joe Armstrong, Camila Cabello and Shawn Mendes, Dave Grohl, H.E.R., Mariah Carey, Sam Smith, and Tim McGraw performing from their living rooms or home studios. But the Backstreet Boys seemed to be the glue holding our '90s hearts together. They not only brought us all back to a much simpler time, they did it from five different locations and performed it with perfection.
AJ McLean, Howie Dorough, Nick Carter, Kevin Richardson, and Brian Littrell reunited to give us the concert we never knew we were missing during these uncertain and frightening times. They nailed the prerecorded performance taken from each of their homes in Las Vegas, LA, Orlando, and others and even graced us with a couple of new band members — Richardson's two sons, who joined him on the drums and guitar, and Carter's son made it in during a cameo at the end of the video.
After the concert, the band took to social media and wrote on Instagram, "Honored we could be part of this incredible event."
The entire performance only lasted just over three minutes but it was clear this is exactly what we all needed right now. There was singing, there was dancing, there were up close and personal frames so we could get a glimpse of our favorite Backstreeter (hello, Nick Carter) in all their glory. The entire thing was put together flawlessly so they looked like they were one band back together onstage.
The living room concert not only made viewers happy for an hour and provided some much-needed entertainment relief, all the money they raised went to support for those helping to fight the global health crisis through two charitable organizations — Feeding America and First Responders Children's Foundation.
I mean, Neil Diamond did recreate his hit song "Sweet Caroline" into a hand-washing tune and Rita Wilson made us a Spotify playlist that she created while self-quarantining with husband Tom Hanks, both of whom tested positive for COVID-19. But, here's hoping this is the first of many home-made concerts gifted to us by musicians like Backstreet Boys. We could all use it.
This article was originally published on