The Backstreet Boys' New Video Will Make You Want To Hug Your Kids Immediately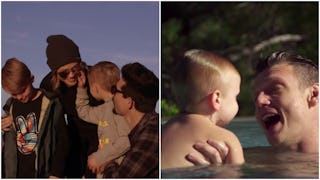 Image via YouTube
The Backstreet Boys' new music video will warm you heart and give you all the feelings
What do we all need on this cold, sluggish Friday afternoon? Oh yeah, a brand new music video from the Backstreet Boys that will make you feel all of the warm, cozy feelings. Warning: this video will prompt you to hug your entire family very tight until they yell at you to let go.
The band released the music video for their new song "No Place," which is off the upcoming album DNA. It's all about how they've traveled around the world but the best feeling is when they're all home with their families.
Okay, okay, I know that idea has been played out one million times but I swear that you'll have a hard time not feeling emotional while you watch. So many cute clips of AJ, Howie, Kevin, Brian, and Nick doing all the sweet things with their families. So many sunsets. So many little kids. So much romantic slow dancing.
Side note: it's pretty crazy how much we've all grown since the "I Want It That Way" days. More warm and fuzzies, way less extra-long bangs.
People were melting over on Twitter. It's good to see that no matter how much the world changes, the Backstreet Boys still have the ability to make people's heart rates go way, way up.
If you're currently needing much, much more Backstreet Boys ASAP, don't worry. The band's new album will be hitting stores on January 25th so you'll get plenty of silky sweet tunes. Also, the guys celebrated their 25th anniversary in 2018, and they have zero plans of slowing down.
"I think it's a true testament to our fans first and foremost, staying with us for 25 years through the good, bad, highs, lows and different," AJ McLean told ET. "…We always talk about it in every interview that it all boils down to the music first and being able to have such amazing songs for 25 years is a huge asset to us still being here, so we're super grateful and we're super blessed and hopefully we can do 25 more."
Here's to many, many more years of the Backstreet Boys feels. We definitely want it that way.