Backstreet Boys Surprise Fans With Elevator Singalong And It's Pure Joy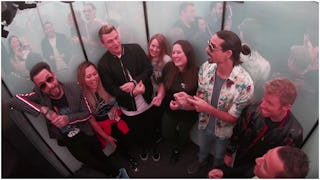 Image via TRL
The Backstreet Boys surprised fans in the elevator and it was so perfect
Are you ready for your weekend dose of pure '90s magic? The Backstreet Boys surprised fans in an elevator AND did a singalong to three of their classic hits. Caution: this video will make you want to dig out your boy band posters and tape them permanently to your bedroom wall.
The joyfulness began when TRL installed hidden cameras into their elevator. Unsuspecting employees got on and were casually greeted by the entire band. Literally none of the women even tried to play it cool, which is very, very reasonable. There was a lot of beaming, a lot of squirming, and a whole lot of giggling. One elevator rider stepped on and screeched: "Oh my God."
I guess our hearts will forever belong to the Backstreet Boys and we just have be okay with that.
So, that was all fun and cute. But then the fivesome began singing and it became a gem of an experience. They belted out "I Want It That Way," "Everybody," and "As Long as You Love Me." There was a dance party. Selfies were taken. More people were crowded into the elevator than was probably legally acceptable. Jealous, yet?
If you're having a sudden thirst for getting the Backstreet Boys back in your life, never fear. The guys are kinda everywhere. They're performing on The Tonight Show with Jimmy Fallon.
They're watching teens today watch their old music videos (the reactions were fairly mixed).
Annnnd you can find them in Las Vegas, performing live in front of fans — both old and new.
"When we look out into the audience, on some nights, there's up to four different generations out there," Howie Dorough told Vulture. "Also a lot of guys are even coming to the show. They're cool enough in their skin to be able to admit that it's okay to have liked the Backstreet Boys. They're singing every word to our songs."
I mean…can you blame them?
Here's hoping that one day we can all have an elevator singalong with the Backstreet Boys. Our teenage selves deserve it.