Backstreet Boys Are Going On A World Tour And We're Already Screaming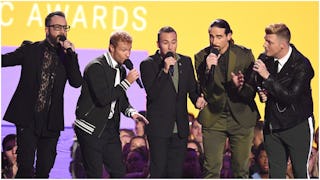 Image via Noam Galai/Getty Images
The Backstreet Boys are touring around the world AND releasing a new album so hearts are officially exploding everywhere
Attention Backstreet Boys fans. The iconic pop group has officially announced that they're going on a worldwide tour – and we definitely want it that way. If your 90s loving heart needs to experience even more palpitations, the guys also said that they're releasing a new album called DNA, due out January 25, 2019.
Dust off your sparkly hair clips and let's DO this.
The group broke the news on YouTube and Instagram, which prompted more heart eye emojis in the comment section than we've ever seen.
"Okay, here we go…. #DNAWorldTour 2019! Our tenth album #BSBDNA out January 25th!" the announcement read. "This era we are exploring each element of our career – spanning 25 years – that have been the building blocks of what we call the Backstreet Boys today! Thank you all for coming on this journey. Things are about to get interesting!!!!!!"
They also shared this freaking adorable video profiling all five bandmates that makes us remember exactly why our teenage selves fell in love with them to begin with.
Tickets for North American tour dates will be available on Nov. 14 and tickets for European tour dates will be available on Nov. 16. Also, when we said worldwide, we meant worldwide. The group is going to be pretty much everywhere and there will be a ton of chances to see them perform (full list of dates here).
Yes, this does mean that you need to relearn all of the lyrics to "Show Me The Meaning Of Being Lonely." Immediately if not sooner.
Can't wait until you're officially inside the stadium, living your best life? Here's a few things to tide you over. First off, there's the group's latest music video "Chances."
And there's footage from that time the Backstreet Boys surprised a group of people, everyone freaked out, and there was a sing-along to "I Want It That Way." Prepare to beam like a madwoman throughout.
Also, a very important throwback.
Here's to reliving all the 90's magic. Now, where you at NSYNC?