Man's Birthday 'Dad Joke' To His Daughter Wins The Internet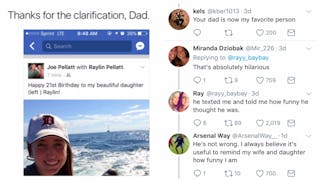 Image via Twitter
This may be the best dad joke of all time
Bad dad jokes are a rite of passage that every father has to make because they're dads and it's in their DNA to humiliate their children as much as possible. But one dad took his humor game to an entirely new level last week and has won the hearts of thousands in the process.
Raylin Pellatt, a student at Michigan State University, tweeted a screenshot of a Facebook post that her dad, Joe Pellatt, shared for her 21st birthday. In his message, he included a picture of Raylin sitting next to a sea lion with the caption: "Happy 21st Birthday to my beautiful daughter (left) Raylin!"
Just one little word really can make all the difference. We just can't with how much we love this guy.
The internet agrees. Raylin's tweet has already been liked over half a million times and gathered 182,000+ retweets since she posted it on Friday — because people love dads but they love bad dad jokes even more. It seems the internet can't get enough of Pellatt's humor:
We happen to think bad dad jokes are the best. My husband is famous for his embarrassing one-liners that leave only him laughing while the rest of us sit shaking our heads. He was in the middle of one the other night and our 12-year-old son cut him off mid-sentence and was like, "Please. Just stop." I don't think any of us really wants him to stop, but please don't tell him that.
Dads are amazing. They set good examples, teach us right from wrong, and always seem to have a special bond with their little girls. It's clear that Raylin's dad is doing this parenting thing right. He obviously has a great relationship with his daughter and who doesn't love a person that doesn't take themselves too seriously?
We're fairly certain this has to be the best birthday message she received this year. It seems Joe is pretty happy with himself and his dad joke repertoire:
Though we aren't sure what he could possibly have in store for his daughter's next birthday that could ever top this.
This article was originally published on