15 Must-Read Books To Bring Out Your Inner Female Bad*ss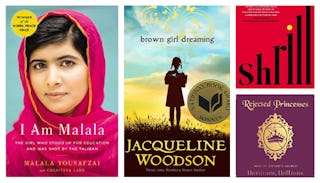 Books. Remember them? Sadly, many of us don't. One in 4 Americans surveyed recently didn't read a single book in the last year, and yet it's estimated we spend 50 minutes per day on Facebook. But since "read more books" is a common New Year's resolution, there's no better time than now to put down the technology and pick up some printed word. And if female badassery happens to be on your list of most loved genres, I've got some new titles that will have you fist-pumping for feminism between page turning.
Based on the insanely popular Tumblr account with the same name and featuring the stories of 100 of the most fearless and bold women throughout history, this beautifully illustrated book will hold you captive under the spell of the rejected princess's awesomeness, not an evil queen. Also age-appropriate for the young adult "princess" in your life.
You may not know this, but our favorite Eat, Pray, Love lady has a podcast, and this book brings together a comprehensive summary of all the wonderful discussions and inspirations Gilbert gives on that podcast. This little gem of inspiration will get you out of your fear rut, and will be just the shot of creative confidence you need to live more bravely and creatively.
If you still don't know who social scientist and TEDx legend Brené Brown is, get your ass to the bookstore stat. This New York Times best-seller from 2015 will forever be relevant, is written with wittiness and heart, and is one you will reach for again and again.
You know the voice in your head telling you you're not good enough, skinny enough, or smart enough? This book shuts her up once and for all, teaching how to strip your mind of negative thought patterns and replace them with courage and tenacity.
Written in a naturally funny tone but with serious truth bombs, this very motivational yet doable self-help book may be just what you need to start your new year off right.
Think of all the things you say "no" to, simply out of self doubt and fear. What if you said "yes" instead? Talented TV producer and mother of three Rimes chronicles her life before and after her year of saying "yes" to all things. Brutally honest, sensitive, organic, and heartening, pick up this book and get ready for your life to change.
7. Shrill by Lindy West
Lindy West refuses to be quiet, and thank god for that because she is hilariously talented. This part memoir, part call to activism is for all who refuse to remain quiet in the face of societal pressure and norms that demand just that.
A gorgeous coffee table book that actually needs to be on your coffee table. Profiling 100 successful women entrepreneurs and creatives, as well as their work environments and habits, this book is a celebration of what the female mind can do. You'll want to hug it.
Do you have a daughter? Buy her this book. That is all.
For the record, this is the only celebrity biography I've ever read that had me stopping to stand up and cheer. Remini's honesty and intense bravery to even write such a book is reason enough to want to read it, but when you do, you'll find it is so much more that that. Her passion to be a voice for those who do not have one has made me love her more than her acting ever did.
Can you guess who advised Winston Churchill, one of the most notable figures in human history? Turns out his wife did, because of course she did. If you're a fan of the Amazon series The Crown, and are interested in reading a truly fearless, brilliant, and engaging biography of an amazing woman, don't let this one pass you by.
Yes, it's a movie, but like most movies, it was an even better book first. For budding young female scientists, or those aspiring to be successful in traditionally male-dominated careers, the true story of these woman is better told on the page than on screen.
If you still haven't read this book, shame on you. Absolutely riveting and undoubtedly one of the most inspiring books of the last decade, you need to go get it. Now.
And for the budding little female social warriors in your life, these two titles are not to be missed:
This National Book Award winner is a collection of Woodson's poems about growing up during the civil rights movement. Told in verse but no less engaging, this book is a must-read for young girls, especially those of color.
Your daughter needs this picture book biography on her bookshelf, if only to teach her that it's never wrong to do the right thing, and to speak it loudly, even in the face of dissent.
Happy reading!
This article was originally published on